In this constantly changing world, the maxim of adapt or die is even more necessary in these times of masks and social distancing. If you think it's hard for us to change our trivial routines, imagine what it must be like to make changes like the ones that were implemented this year by a designation of origin as extensive and diverse as the Cava D.O., with 38,000 hectares of vineyards, more than 6,800 winegrowers and 370 wineries present in over 100 countries.
In order to introduce the new regulation on zoning and quality, the Cava D.O. held an online presentation in two sessions with 60 opinion leaders. Guided by Ferran Centelles, sommelier and Spanish correspondent for jancisrobinson.com and one of the experts who collaborated in defining the new standards, each group tasted nine Gran Reserva and Paraje Calificado Cavas (the list is at the end of this post). Made using various coupages and ageing times, the tasting served to highlight the diversity and richness of styles and nuances of a designation that is firmly committed to quality. "It's about giving more options to consumers so they can distinguish the Cavas", explained at the beginning of the tasting Javier Pagès, president of the Cava D.O.
"It's not an easy thing to convey, but each bottle will show all the information, which is the best way to communicate".
JAVIER PAGÈS, CHAIRMAN OF CAVA D.O.
The zoning of the Cava territory, divided into seven autonomous communities across Spain, was a long-standing demand. Under the presidency of Pagès, the sector managed to implement new categories to relate the wines to the territory, quality and sustainability, as well as to offer more options to consumers when it comes to distinguishing between the different types of Cava on the market.
The new regulation lays out four zones: Comtats de Barcelona for Catalan cavas, Viñedos de Almendralejo for those from Extremadura, Valle del Ebro for those made in the Basque Country and Aragon, and a fourth zone, whose name is still to be determined, for cavas made in Levante.
Another key change involving Cava is the introduction of two new categories based on quality. Cavas aged more than 18 months (Reservas, Grandes Reservas and Paraje Calificado) are included in the category Cava de Guarda Superior. All of them will be organic and have limited production. The youngest, aged a minimum of nine months, will be included in the new category Cava de Guarda. The president of the D.O. confirmed that the first Cavas with these new quality seals will reach the market in late 2022.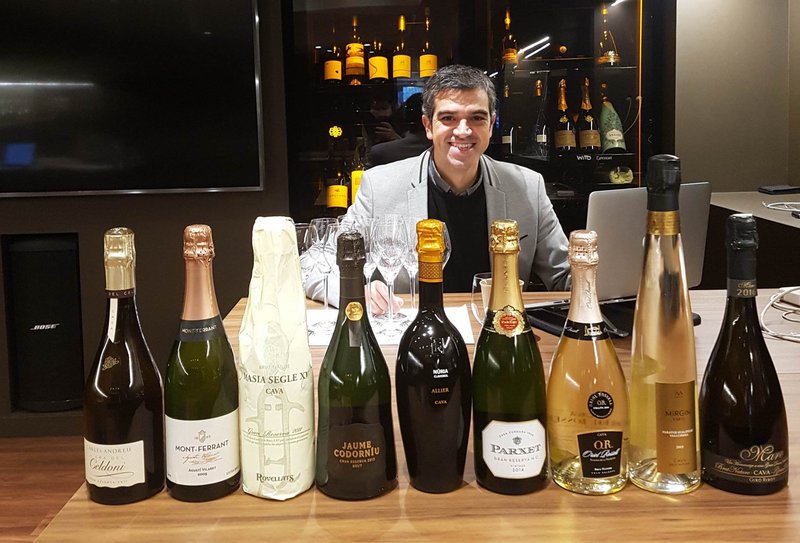 After the tasting, we spoke with Ferran Centelles to get more detail on what makes Cava special:
Why did you select these Cavas? What's special about them?
The 18 bottles in this Cava tour of excellence represent different winemaking profiles and long ageing times. Tastings provide an opportunity to present new knowledge and the new regulation, which all the Cava stakeholders put a lot of thought into making.
What was the goal of the two tasting sessions? What are your takeaways?
We wanted to present the long-aged Cavas. If there's one thing that makes Cava a unique and high-quality product is its capacity for autolysis and to create fine bubbles. They are complex wines that strive for excellence. All the wines we tried in the tastings are made with clean base wines, designed for long ageing. The variety of styles present in quality Cavas also serves to enhance the product.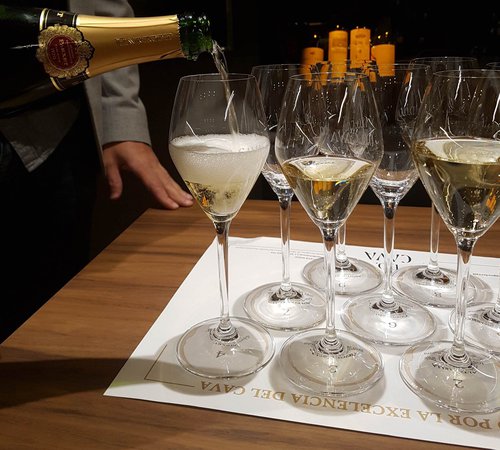 The Cavas Gran Reserva and Paraje Calificado that were tasted today sit at the top of the Cava quality pyramid. Can they compete on equal terms with the Champagnes from the leading French brands and small producers?
I truly believe that Cava can compete on equal terms with Champagne, especially in blind tastings, where it's easy to be surprised more than once.
What differences can you find between Cava and Champagne, and even Prosecco?
There are many threads connecting Cava and Champagne. In general, Champagne is more oxidative, but the differences aren't really that great. The important thing is to have quality base wines. The Xarel·lo grape variety is undoubtedly highly suited to long ageing.
Prosecco is a fresh and pleasant, but simpler, sparkling wine, with a livelier bubble and a smaller wealth of aromas. Cava is drier, more complex, softly acidic and sweeps over the palate.
Can Cava elevate a gastronomic experience?
Yes, absolutely. Cava is one of the most versatile drinks out there and helps make a gastronomic experience more sophisticated and complex. At El Bulli, Cava was one of my favourite wines for pairing.
How would you describe Cava in three words?
Territory, identity and quality.
Even though this Christmas will be unlike any other, bubbles are a must on any table. Recommend a couple of Christmas dishes to serve with Cava Gran Reserva and Paraje Calificado.
Cava is sometimes saved for dessert, but you should try moving it to the centre of the table, because it can work with a wide variety of dishes. The Grandes Reservas and Cavas de Paraje Calificado, with those toasted notes of autolysis, work very well with baked dishes with caramelised or toasted ingredients, for example. And also with dishes with long cooking times, especially meats, even with garnish. It's perfect with fish with a sauce made of garlic, parsley and dried fruits - what in Catalan cuisine we call picada.
These are the cavas that were tasted on the Cava Tour of Excellence, organised by the Cava Designation of Origin:
- Barrica Gran Reserva 2015, de Agustí Torelló Mata;
- Mirgin Exeo Paraje Calificado Vallcirera 2015 de Alta Alella;
- Cava de Paraje Can Sala 2008 de Can Sala-Vins Familia Ferrer;
- L'Era del Celdoni Gran Reserva 2011 de Carles Andreu;
- Varias Edición Limitada Brut Nature Gran Reserva 2008 de Cavas Varias;
- Jaume Codorníu Gran Reserva 2013 de Codorníu;
- Mare Brut Nature Gran Reserva 2016 de Giró Ribot;
- Singular Gran Reserva Brut Nature de 2016, de Juvé & Camps;
- Gran Reserva Brut Nature 2014 de Maria Rigol Ordi;
- Visol 2013 de Mestres;
- Agustí Vilaret Gran Reserva 2008 de Mont-Ferrant;
- Reserva de la Propietat 2014 de Oriol Rossell;
- Blanca Cusiné Gran Reserva Brut Nature 2012 de Parés Baltà;
- Gran Reserva 2014 de Parxet;
- Paraje Calificado Can Bas Gran Vintage 2014 de Pere Ventura;
- Gran Reserva Masia Segle XV Brut Nature 2011 de Rovellats;
- Núria Claverol Allier Cava Gran Reserva 2014 de Sumarroca y
- MIM Natura Blanc de Noirs 2014 de Vins el Cep.