Cava, Champagne and Prosecco are three names that are widely known internationally, especially when we talk about parties and celebrations, and also about the history and culture of wine. But these three names often create confusion among those who are new to the world of sparkling wines.
What is the difference between Cava, Champagne and Prosecco?
Many would not know more than two, yet even if we're not well appraised of all the details, we can recognise what all three have in common: the bubbles. Let's take a closer look at these three types of sparkling wines.
One of the beauties of wine, and also of bubbles, as well as making toasts, is that they allow us to travel. We can get to know other areas and parts of the world, thereby discovering different customs, attitudes, and ways of life. Today we propose a bubbly journey to find out the similarities and differences between these sparkling wines, and to understand and appreciate even more the sparkling wine that best reflects the Mediterranean character and our territory: CAVA.
Types of Sparkling wines
Champagne, Crémant, Sekt, Prosecco, and Lambrusco are just some of the names of the numerous types of sparkling wines that we can find on this journey around the world. Today we would like to focus on the three which, due to their international renown and their quality, have attracted most attention from wine lovers.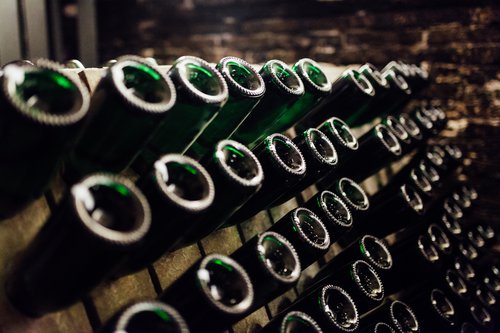 We begin our tour with Cava, the closest to us. Cava is a sparkling wine made according to the traditional method, i.e. it undergoes a second fermentation in the same bottle that will reach the consumer. Its main grape varieties are a trio that over the years has proven to complement each other extremely well: Xarel-lo, Macabeo and Parellada. The Mediterranean climate, along with winegrowers who understand tradition and terroir, lend Cava part of its personality, together with its almost two centuries of history. This dates from 1872, when the first bottle was made in the Penedès, considered the birthplace of Cava.
Differences between Cava and Champagne
With our suitcases packed, we head to the north of France, where at the end of the 17th century, the drink that years later would become the most famous wine in the world, Champagne, was born by chance. This wine has a close relationship with Cava, not only because for years Catalonia was one of its main suppliers of cork stoppers, but also because they share the same production method and the quest for quality and uniqueness. But let's not get ahead of ourselves - let's start at the beginning, back in the vineyard.
The Champagne region is located in the northern part of France, at the limit of where viticulture is considered possible in terms of cold tolerance. Cava, on the other hand, enjoys a Mediterranean climate that allows the grapes to ripen optimally. Therefore in Champagne, it is more difficult to obtain dry sparkling wines (without added sugar) and vintage sparkling wines (the prized millésimes, or vintage, which does not happen every year). Cava, on the other hand, manages to guarantee the harvest year after year, thanks to the reliable hours of sunshine in the Mediterranean climate, producing vintage Cava with ease, choosing the optimum point of ripeness, and deciding whether to add sugar to create different styles of Cava.
Now that we are talking about styles, it is a good moment to look at one of the great virtues of sparkling wines in general, and Cava in particular: versatility. Although Champagne also has different styles, thanks to the dosage (addition of sugar) and the type (blanc de blancs, blanc de noirs or rosé), Cava has more options, due to the wide range of authorised varieties alongside the traditional ones. These different styles allow it to pair with an ample variety of cuisines, from the most traditional to avant-garde cuisine, and even Asian dishes.
Cava is ideal to use in the world of cocktails, where it has already proven to be a great travelling companion, as we explain in another article in this blog.
The reason why Champagne follows the same production method as Cava may also be due to their historical relationship, and the proximity, between these two sparkling wines. One of the aspects that most differentiates them from other sparkling wines in the world is their method. We are referring to the traditional or champenoise method, which consists, simply put, of carrying out the second fermentation in the bottle. This means that both Cava and Champagne obtain their bubbles in the same bottle that reaches the market. In order to guarantee the monitoring of this method and, therefore, the quality of the process, the D.O. Cava and its Regulatory Council were created, in the same way that in France we speak of the A.O.C. (Appellation d'Origine Controllée) Champagne and its managing body. Despite sharing the same method and objective of achieving the highest level of quality, there are several reasons why Cava has a much more affordable price range than its French counterpart. Therefore Cava is a drink for everyone, and is an excellent option for all those who are interested in the hedonistic yet responsible consumption of a sparkling drink.
Differences between Cava and Prosecco
If we continue travelling, we will discover other drinks whose main protagonist is bubbles. But we suggest a stop in Italy and, more specifically, in the Veneto area in the north-east. This is the birthplace of a drink that has achieved great fame, thanks to its more casual style: of course, we are talking about Prosecco. This sparkling wine, unlike Cava and Champagne which undergo secondary fermentation in the bottle, obtains its bubbles in large fermentation tanks using the charmat method. So, in general terms, we can say that Prosecco is sweeter and fresher, highlighting the primary fruit aromas ahead of the more complex and deeper nuances/bouquets that we usually find in Cava or Champagne. This difference is also noticeable in the aging time in the bottle, which is practically non-existent in most Proseccos. Therefore, Cava becomes the best partner to accompany us throughout a meal, while Prosecco is aimed at a less demanding public, in terms of the product's richness and complexity.
Another difference between Prosecco and Cava is that the Italian sparkling wine offers three versions, according to the existence and intensity of its bubbles: Prosecco Spumante, Prosecco Frizzante (with fewer bubbles) and Prosecco Tranquillo (without bubbles). There are also different degrees of sweetness, from Brut (with up to 15 g/l of sugar) to Extra Dry (15 to 20 g/l) and Dry (20 to 35 g/l).
Summary table:
The Characteristics of Cava
Climate: Mediterranean
Grape varieties: Xarel-lo, Macabeo, Parellada (traditional coupage) Other authorised varieties: Subirat Parent (Malvasia), Chardonnay, and the black varieties: Garnacha Negra, Monastrell, Trepat (only for rosés) and Pinot Noir
Production method: traditional or champenoise method
Average price: medium to high
Types of Cava
Brut Nature: 0-3 g/l
Extra Brut: 0-6 g/l
Brut: up to 12 g/l
Extra Seco: 12-17 g/l
Seco: 17-32 g/l
Semi Seco: 32-50 g/l
Dulce: more than 50 g/l
The Characteristics of Champagne
Country of origin: the Champagne region of northern France
Climate: extreme, cold and harsh
Grape varieties: Chardonnay; Pinot Noir and Pinot Meunier (red)
Production method: traditional or champenoise
Average price: high
Types of Champagne
Extra Brut: 0-6 g/l
Brut: less than 12 g/l
Extra Dry: 12-17 g/l
Sec: 17-32 g/l
Demi-sec: 32-50 g/l
Doux: more than 50 g/l
The Characteristics of Prosecco
Country of origin: the Veneto region in north-east Italy
Climate: temperate
Grape varieties: Glera (at least 85 %). Other authorised varieties: Verdiso, Bianchetta Trevigiana, Perera, Glera Lunga, Chardonnay, Pinot Bianco, Pinot Grigio, Pinot Nero (red)
Production method: charmat
Average price: low
Types of Prosecco
Brut: up to 15 g/l
Extra Dry: 15-20 g/l
Dry: 20-35 g/l
This is the end of our journey, and we return home having met three of the most internationally famous sparkling wines. A journey that shows us that they all have bubbles in common, but that few have the unique identity of Cava. As well as defining a territory, with history and tradition, this quality Spanish sparkling wine offers the world of bubbles a well-priced, quality, versatile and adaptable wine, whatever the celebration, and brings complexity and intensity for those who want their toast to be special.