In Jerry Thomas's 1862 "The Bartender's Guide: How to Mix Drinks, or The Bon Vivant's Companion," the first printed listings for Champagne Cocktails are published. The Champagne Cobbler, Cup and Cocktail enchant professional mixologists into the historic beginnings of Renaissance cocktail culture. Across the world in Spain, the intrigue of Méthode Champenoise travels south from France to the winemakers of Catalonia via the extensive travels and research by Josep Raventós. Spanish "Champaña'' is created and the historic beginnings of Cava as the prime competition in the demand for quality bubbles has begun. Cocktails and Cava were essentially born at the same time, two whirlwinds of change embedding themselves in our drinking cultures. Call it kismet or fate or destino.
Today the vast majority of exported Spanish wine is Cava. The overall demand for bubbles has grown worldwide as more people find that sparkling wines can be enjoyed on a variety of occasions that are not just celebratory. Specifically, the call for more affordable alternatives to Champagne has kept the market alive and varied. The meteoric rise of Italian Prosecco and its lesser exported Germanic cousin, Sekt, both made by the Charmat method, have become a household name for many bars. The smaller market trend for Ancestral or Pét-Nat bottlings is also on the rise as more of the consumer base finds the organic and less interventionist practices to be a strong buying point. And to the point of our topic, the enjoyment of a well-made mixed drink has also surged as more countries find themselves with growing hubs of craft cocktail scenes.
The very first sparkling cocktails may have been made with early Champagne but I posit that Cava is singularly a better fit for most cocktail beverage programs of the modern market.
The most practical reasons are the expense and availability. A beverage director for a cocktail bar cannot generally afford to open a bottle of Champagne with little guarantee of not allowing for waste of unsold, opened goods. Champagne has mostly priced itself out of the tightly margined cocktail market. There are certainly exceptions, of course, but overall most bartenders are not opening Champagne for their cocktails. Cava, on the other hand, is widely available and also much more cost effective.
I love adding a splash of Cava to a cocktail--it opens up the nose while drying out the entry.
Phoebe Esmon, Bar Director for Perfectly Ad Hoc Hospitality, Asheville, N.C.
"I find it particularly helpful in cocktails that feature shrubs and alternative acids. My favorite classic variation is a "Bamboo Royale" which is just a Bamboo with a splash of bubbles. Another benefit of Cava in the bar is that it brings some of the flavors and nose of a Crémant without hurting beverage cost."
The most natural reason why Cava is ideal for mixing in cocktails ties into its compatibility of structure. Here we are thinking of three main facets: the quality and strength of the effervescence, the texture of the bubbles and its pleasant acidity, and the overall strength of character and complexity of the wine. All three of these elements are best demonstrated by a wine made from a balance of harmonious grapes that undergoes a secondary bottle fermentation.
The bubbles are important. The tiny stream of pearls so cherished in a standalone coupe or flute adds to the mouthfeel and assists in the uplifting and intermingling of aromas. A wine that goes flat too quickly, particularly after you add other ingredients to it, no longer serves one of its main functions in a cocktail. After all, the primary goal of a cocktail is to refresh and smell nice.
If you add sweetness to most Proseccos, you essentially get sweeter wine. When a sweet mixer is added to a more complex wine like Cava, the wine adjusts and the ingredients begin to complement each other, showcasing a different side to the acidity or flavor profile of the wine. When fruit is added to a Prosecco, the fruit actually overpowers the wine. Additionally, the fruit's sugar and acid quickly start the reaction that flattens the effervescence of the bubbles. Consider the popular brunch favorite cocktail: the Mimosa.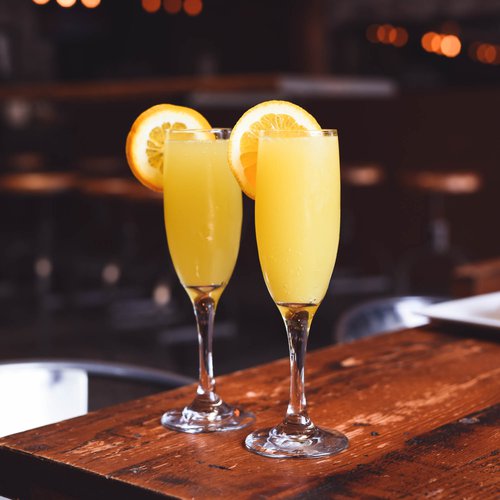 Mimosa
1 litre orange juice
1 bottle of Cava Reserva
Half-fill each of 6 glasses with cava, then carefully pour in the orange juice until the glass is full.
The orange juice will overpower Prosecco too quickly and the bubbles will dissipate almost immediately. Being a two-ingredient cocktail, it can be easy to notice the greater textural improvement when you make it with Cava.
Now consider another classic two-ingredient: the Black Velvet.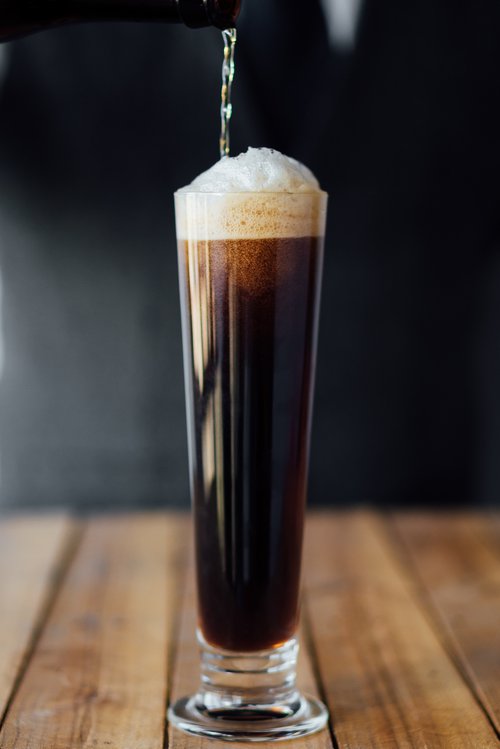 Black Velvet cocktail
Guinness
Cava Reserva
Half fill Champagne flutes with Guinness, then slowly top them up with chilled Cava.
The thickly textured Guinness with its dark bitter flavors and creamy weight will overpower nearly all sparkling wines. Cava is really the only worthy substitute for the Champagne of the original recipe due to its strength of character and structure as well as its affinity for creaminess.
A well made mixed drink requires a measured balance of ingredients. A base spirit or mixer should not overwhelm its support structure and all elements of a drink should be present during roll call. A good cocktail ingredient absorbs and interacts with its fellow mixers. The enjoyment of a mixed drink equates to the quality of its ingredients and the balance of those ingredients acting together as a whole. With that in mind, let's take a look at a recipe with more than two ingredients: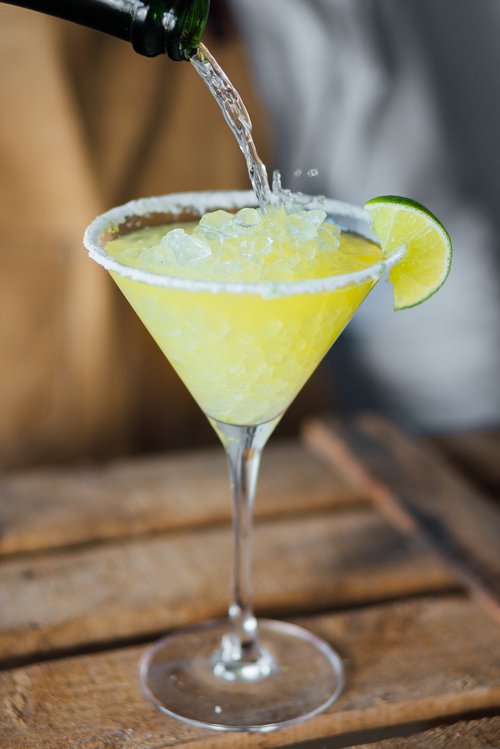 60ml triple sec
230ml tequila
2 tbsps freshly squeezed lime juice (about two limes)
1 bottle of Cava Reserva, chilled
690ml orange juice
2 limes sliced thin (optional)
2 oranges sliced thin (optional)
Combine all the ingredients in a large pitcher with ice and serve in salt rimmed glasses.
In building cocktails, I like to steer towards pairing Cava with savory herbs like thyme, rosemary and oregano or with drier citrus like lemon & grapefruit. I find the flavors of these ingredients alongside Cava work together like a two-way street, building off of one another by complementing each others' aromatics.
Adam Bernbach, Bar Director for Estadio and Oyster Oyster in Washington D.C.
One of the greatest attributes to Spain's vineyards are its exposure to sun and its high altitudes, two cornerstones for excellent ripening and acidity for balance. The interplay of the three main grape varieties: Macabeo, Xarel·lo and Parellada work combinatorially to create a wine with the backbone structure, aroma, finesse, richness and acidity of a wine that can hold its own with other ingredients. Additionally, Cava is fermented twice, with the second time being in-bottle for a minimum of nine months. This second fermentation allows for the wine to develop additional structure and complexity with secondary characteristics that will add to the aromas of a mixed drink. If you add a sprig of thyme and a slice of apple to a glass of Prosecco, you will enjoy a refreshing light hearted spritzy drink. But adding that same sprig of thyme and apple to a glass of Cava will enhance the base wine and bring out the herbal aromas that complement the thyme as well as the fruit aromas that enhance the apple. When experienced mixologists and beverage directors choose to use Cava in a cocktail, it is because they know the wine has herbal, mineral, citrus and favorable elements that will complement fresh ingredients. So you can rightly assume the affinity for mixing is inherent.
Cava was born into this world to delight, finesse and enhance cocktails.