IN AN EFFORT TO INCREASE ITS CACHET, CAVA IS INTRODUCING TWO NEW PRODUCT SEGMENTS. GILES FALLOWFIELD EXPLAINS THE INTRICACIES OF THE PROJECT
Cava is at a crossroads. It is very much trying to go down the quality-driven, higher-value route, which has strong echoes of what is currently happening in champagne and in prosecco, the two fizz categories between which this sparkling wine from Penedès (mostly) uneasily sits. Uneasily, in the sense that it aspires to have an image more in tune with the former, while at the same time being understandably attracted by the commercial success of the latter.
Prosecco is pinning its current hopes of further sales expansion and more protable business, at least partly, on the new DOC category of rosé prosecco, hitting the shelves near you as I write in the run-up to Christmas 2020. Entrylevel champagne is being squeezed and quite a few small, medium and even large producers in the region are having to rethink their business model. In champagne, just chasing volume, given the high price of grapes that most brands have to buy in, makes less and less sense (see analysis on pages 30-31).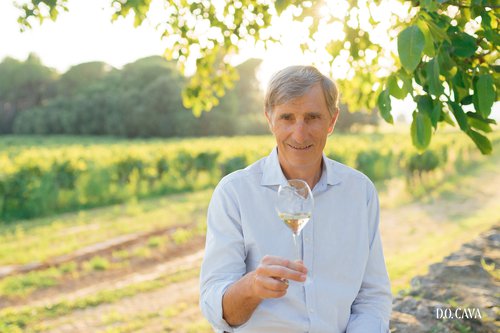 Cava's route towards adding value looks to be di‰cult, but certainly not impossible. One of the first important steps was the creation in 2017 of the Cava de Paraje Calificado category. In simple terms it refers to specific, single vineyard sites, Protected Geographical Indications (PGIs) at the pinnacle of the cava production pyramid.
After a period of naval-gazing and wide consultation, the Consejo Regulador de Cava, in its continuing e'orts to try to address cava's image issues and raise value – in 2019, 87.7% of volume was still accounted for by basic DO Cava zz that only has to be aged a minimum of nine months – is set to introduce two new product segments: Cava de Guarda and Cava de Guarda Superior, the latter including Cava Reserva, Gran Reserva and Paraje Calificado.
This is the segmentation part of the segmentation and zoning work, which Consejo Regulador president Javier Pagés sees as "the main project in the strategic plan". Alongside the two new Cava de Guarda categories, the whole cava production area is now to be divided up into four main regions, says Pagés. And the two largest regions – the Comtats de Barcelona and the Valle de Ebro – are themselves further divided into five and two sub-zones, respectively (see box).
Previously cava could still be made in seven autonomous communities: Catalonia, where 80% of the 38,000- odd hectares of vineyards are registered under the DO, plus Aragon, the Basque Country, Extremadura, La Rioja, Navarra and Valencia.
Differentiating between this very wide diversity of geographical location, geology and climate is one of the central issues the Consejo Regulador is trying to address in the changes it has agreed.
Pagés says these new regulations were approved by the Consejo Regulador de Cava in July 2020 and are now in the hands of the Spanish Minister of Agriculture, Fisheries & Food, Luis Planas. He hopes they will come into operation some time in the first quarter of 2021.
"We believe that cava is a great product, but this [zoning] gives a platform for consumers to make a choice about its origins, with more specic labelling companies can use, when they want. It increases diversity,"
Javier Pagés
"Producers can be specific about the area they work in, not just in the Penedès DO [where the majority of cava is produced] but also others, for example the sub-region of Serra de Prades [a pre-coastal mountain range between Tarragona and Lleida] where a lot of Trepat is grown. The idea is that putting the specific region on the label is an asset, but they [the producers] don't have to use it. In time consumers can start drinking [and perhaps recognising] specic regions and even sub-regions that they like."
Javier Pagés
ALIGNING WITH AGE
"As an active player within the regulatory council, we are also working on segmentation and zonification. Segmentation has been aligned with ageing, so that Reserva and Gran Reserva cavas will have to be organic."
Sergio Fuster, chief executive of Raventós Codorníu
"Zonification will indicate the origin of the grapes and will help give prestige and credibility to the quality of cavas. We've been differentiating between the origins of our grapes since the 2017 vintage and preserving traceability so that, as soon as the new legislation is approved, it can be applied and communicated via our labels. By 2024, all Codorníu vineyards will be organic, we want to certify all our production and to produce our cavas with minimal impact on the environment. Sustainable viticulture isn't the easiest nor the quickest route, but we are convinced it is the path that will take us the furthest."
Naming the specific area of production, even the sub-zone, on the label of Cava de Guardas, has a lot to do with addressing one of the main grievances of members of the breakaway Corpinnat group, that under current DO regulations cava can be made pretty well all over Spain. Being area specific, if not site specific, is enshrined in the very name.
WE BELIEVE THAT CAVA IS A GREAT PRODUCT, BUT THIS [ZONING] GIVES A PLATFORM FOR CONSUMERS TO MAKE A CHOICE ABOUT ITS ORIGINS
Sergio Fuster
Corpinnat is formed by the combination of two Spanish words and means "heart of Penedès". All 10 current members of this association of wine producers and growers, initially formed in 2015 and ratified by the EU in late 2017, are based in and only use grapes from this area west of Barcelona, where the vast majority of DO Cava is made. The new Guarda Superior regulations also make a nod towards other more stringent rules that Corpinnat producers adhere to. They insist on 100% organically produced grapes, harvested entirely by hand, both now requirements of Guarda Superior. While the Integral Producer stamp identies the wineries of the DO.
Segmentation: Cava de Guarda and Cava de Guarda Superior
Cava de Guarda: aged in bottle a minimum of nine months, the label can carry details of the region of origin (zone and sub-zone), but this isn't mandatory.
Integral Producers stamp: The introduction of the Elaborador Integral (Integral Producer) stamp identies the wineries of the DO Cava that carry out the entire production process themselves, from growing the grapes to bottling the wine. Depending on ageing, the wine can be called either Cava de Guarda or Cava de Guarda Superior.
Cava de Guarda Reserva Superior: must be aged for at least 18 months (compared with the minimum current requirement for Cava Reservas, which is 15 months). The minimum ageing requirements for Gran Reserva and Cava de Paraje Calificado remain at 30 and 36 months, respectively. In addition, to use this descriptor, the vines used must be a minimum of 10 years old; the vineyard must be farmed 100% organically; yields are limited to a maximum of 10,000kg/ha and the wines must be vintaged. The wines also have a traceability guarantee 'from grape harvest to bottling'.
A Drinks International article.