This year ended with some delicious gourmet tastings of Cavas and cheesecakes. We enjoyed exquisite combinations of cheesecakes from expert cheesecake baker in Barcelona, Jon Cake, made with surprisingly different varieties of cheese.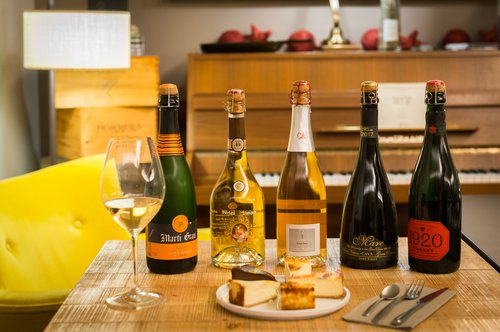 Five special cheesecakes with five Premium Cavas, a menu that impressed even the most gourmet palates. The unique flavour of each type of cheese, fused in a special recipe with a crunchy base and a creamy and unctuous topping, was irresistibly delicious when paired with the bubbles of Cava.
These completely artisan desserts each have their own personality. For the occasion, we tasted a selection of Cavas de Guarda and Guarda Superior to accompany these exceptional cakes: the classic with four different cheeses; Idiazábal with all the flavour of sheep's milk; Cabra, a very special and creamy cake; Cabrales D.O.P., with the strongest flavour, made with cheese from three milks (cow, sheep and goat); and for those with a sweet tooth, a chocolate and cream cheese delight.
Thanks to its good acidity, balanced complexity and its different types according to aging and sugar levels, Cava is the ideal accompaniment for different types of cheese.
According to cheese expert Emma Young in her latest article, The best cheese for sparkling wine:
"Cava is the best sparkling wine for a pairing. It has good acidity, balance in its complexity and there are different types of Cava that are suitable for different styles of food. Pairing food with Cava is wonderful and Cava and Cheese pairing works incredibly well."
Emma Young