A few years ago I was sitting in the very cool Boca Grande restaurant in Barcelona with a plate of egg and chips in front of me. Well, i say egg and chips - it was a bit more than that. A dish the Spanish call huevos rotos where a couple of eggs are broken over a pile of chips but it's still not the kind of dish you expect to be eating with a bottle of gran reserva Cava, especially at a posh wine dinner. Mind you there were truffles shaved over it but still ….
It's a clue though as to why Cava goes so well with food. Firstly, of course, it's a sparkling wine with the ability to refresh the palate after every bite but what makes Cava stand out is its ripeness and savouriness. Coming from a warmer climate than many other sparkling wines it doesn't need much if any additional dosage (the sweet liquor with which most sparkling wines are topped up) so the wines are drier, richer and therefore more adaptable with food.
Secondly one of the key ingredients of the dish - the chips - were fried and fried foods just sing with Cava. Which is appropriate as the Spanish are a formidable nation of friers. Consider the croqueta - the staple of tapas bars the world over. Deep-fried little morsel of joy, ingredients such as jamon (ham), crab or chicken held together with a creamy bechamel sauce. Just heaven.
That of course goes for other friend foods such as fish and chips (take a chilled bottle of Cava down to the beach) or fried chicken (it's fantastic with your Friday night takeaway). Think of Indian street food snacks like onion bhajis and pakoras, crisp Japanese tempura and fritto misto - that wonderful jumble of deep-fried seafood and vegetables you find on menus all over Venice. Anything encased with crisp pastry works too from a vol au vent to an empanada. Or a crisp coated fishcake - heavens, even a fish finger! (It has been known)
The truffle shavings on those chips is another pointer. Truffles are rich in so-called 'umami' which constitutes the fifth taste along with sweet, sour, salty and bitter. It's the deeply savoury taste you find in aged cheese and cured ham why jamon iberico goes so well with Cava especially reserva and gran reserva bottlings. It's present too in seared scallops, in mushrooms - especially dried mushrooms such as porcini - and in crisp roast chicken skin which I know we're not supposed to eat if we're watching our cholesterol but who can resist? (Have you had those dishes which are adorned with little crisp flakes of chicken skin? Try that with a gran reserva and you'll swoon, I tell you!)
Serious Cavas also do a great job in balancing the richness of intensely flavoured seafood like lobster and cutting through creamy soups and sauces, refreshing the palate after each mouthful. Think of lobster bisque (ooo, yes please), a creamy fish pie, chicken with morels, all those pasta and rice dishes with a creamy sauce. Risotto may be Italian but it goes better with Cava than prosecco in my book. Speaking of rice, a full-flavoured cava reserva or gran reserva is great with a paella or any of the myriad other 'arroz' dishes you find in Spanish homes and restaurants. And if paella why not biryani? Cava can handle a bit of spice.
The intriguing thing about high end Cavas though is that you can drink them with dishes you might not have thought of pairing with a sparkling wine. Red meat for instance. And you wouldn't think a rich duck casserole would go with a cava would you but I had it in a restaurant in the region with a paraje and it was simply sensational. Choose younger, fresher styles, by contrast, with raw foods like oysters, tartares and carpaccios and crunchy salads. A glass of cava with a caesar salad? Yes please!
There are also rosé or 'rosado' Cavas where again the warmer growing conditions results in riper more generous fruit. Again I find they go particularly well with rare beef and veal but also with seared tuna and white-rinded cheeses like brie. And white chocolate come to that - with maybe a few raspberries on the side. Or a few macarons…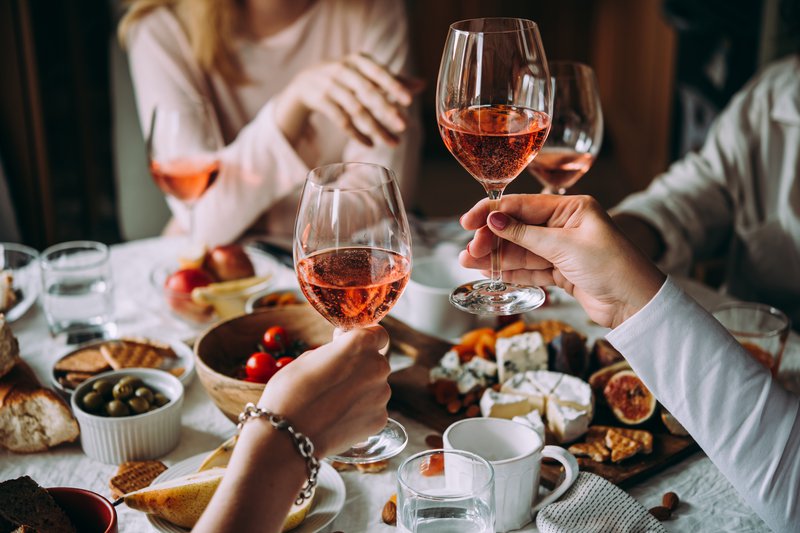 It's a long list isn't it? but there you have it. There is an incredible versatility about Cava whether you're grazing through a tapas menu or just treating yourself to a glass with a pack of sushi you bought on your way home from work.
All you need to do is remember to keep a bottle handy in the fridge!