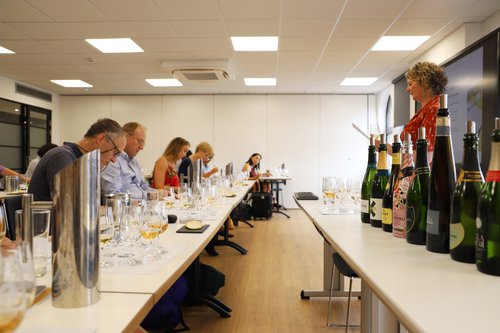 The passion for cava goes beyond enjoying a glass of this delicious sparkling wine; it is knowing what is behind each bottle, its stories of achievement, tradition and culture.
Cava's potential goes much further, which is why on July 6, more than thirty English on-trade and off-trade professionals met at the WSET facilities in London to go further and learn the characteristics of cava - including potential market entrants - in depth.
"It is great to see such interest in Cava in the UK. Everyone was very engaged and interested in the quality of the Cavas tasted, we hope that from now on they will look at Cava in a different way."
Heather Dougherty
Wine professional and educator accredited by the Cava Academy, Heather Dougherty, presented the Discover Cava seminar in an effort to showcase the benefits of cava to some of the leading independent wine marketers. She discussed the latest developments in the D.O., and shared a revealing tasting that including new brands ready to be discovered by the English market. A unique opportunity to increase cava's presence in the retail and hospitality channels in the English market.
"Thank you for the opportunity to attend the lovely and extremely informative masterclass. It was very interesting to taste Cavas of different ageing and styles, we often forget the diversity and quality that exists in Cava", highlights one of the attendees to the training session.
A total of 11 references were tasted during the Masterclass, highlighting Cavas de Guarda Superior, some already represented in the market and others with interest in becoming part of it: Alta Alella; Cordoníu; Juvé & Camps; Maria Rigol Ordi; Maset; Molí Parellada; Roger Goulart; Rovellats Vilarnau and Vins el Cep.