The Sommeliers-Conseil is one of the most prestigious and active sommelier associations in the region of Flanders, Belgium.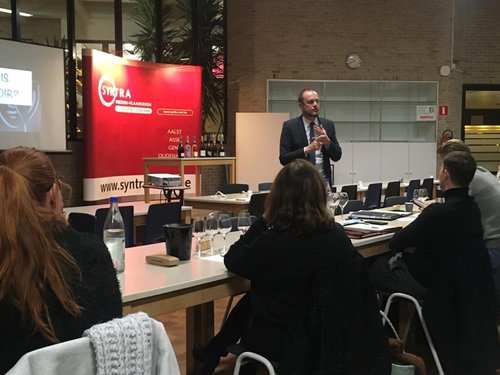 Terroir, origin, grape varieties and the meticulous traditional method were some of the highlights of this Masterclass on the prestigious Spanish sparkling wine. A maximum of 40 professional sommeliers enjoyed an informative Masterclass on the characteristics surrounding the new regulations, accompanied by a tasting of first-class Cavas.
The attendees were intrigued by the selection of Cavas, which highlighted the fantastic integration of the bubbles, as well as the wine's aromatic complexity, and the perfect balance between alcohol and acidity.
Each of the Cavas tasted exhibited its own personality, shining in a particular way on the palates of the most select sommeliers, from Guarda Superior Reserva and Gran Reserva to Paraje Calificado, the pinnacle of Cava:
- Agustí Torelló Mata Ubac 2015. Cava de Guarda Superior Gran Reserva
- Juvé & Camps Singular. Cava de Guarda Superior Gran Reserva
- Pere Ventura Tresor Cuvée Barrique Brut 2017. Cava de Guarda Superior Gran Reserva
- Sumarroca Brut Reserva 2019. Cava de Guarda Superior Reserva
- Vins el Cep. MIM Natura Pinot Noir. Cava de Guarda Superior Reserva
- Vilarnau Rosé Delicat Brut. Cava de Guarda Superior Reserva
- Vins Família Ferrer. Vinyes de Can Sala. Cava de Guarda Superior de Paraje Calificado