While Cava in itself is music to the finest ears and palates, when married with the melodies and voices of top-level jazz performers, it can evoke moments as sweet and memorable as the ones we experienced in the "Ellas y el Jazz" (Women and Jazz) concert series at the D.O. Cava .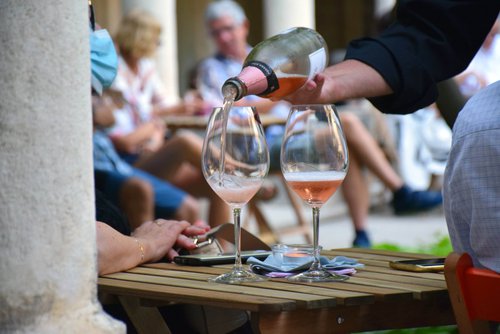 During the weekend of 2 to 4 July, "Ellas y el Jazz", held in the beautiful Renaissance cloister of San Francesc in Vilafranca del Penedès, was one of the main stages of the 14th edition of the Vijazz Vilafranca music festival.
This space, sponsored by the Cava Designation of Origin, assembled some of the most acclaimed female voices in the jazz sector. A real delight for the audience, who enjoyed the magical evening accompanied by delicate rosé Cavas.
In addition, this year's festival kicked off with a tasting of top-quality Cavas paired with foie gras and premium charcuterie gastronomic products offered by Ametller Origen. In this luxurious pairing, with the help of the sommelier Xavi Viles, the organoleptic characteristics of Cava were revealed, once again demonstrating the versatility of these quality bubbles.
Vijazz Vilafranca is a wine and music event that is fully consolidated within the Catalan and national scene, combining wine with top names in the world of national and international jazz in an essential event for wine and music lovers.
All the activities were conducted in a smaller format, following the current regulations and safety measures regarding Covid-19.