The spectacular Eberbach Abbey opened its doors to the Sparkling Wine Festival, a key gathering of various international wineries producing world-class sparkling wines.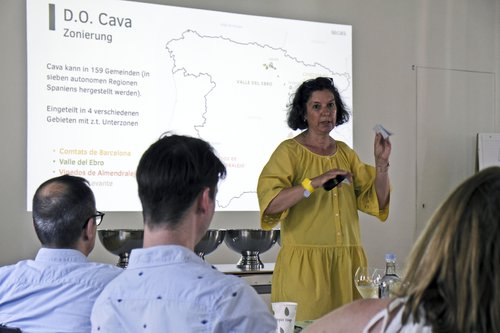 As part of the festival, we gave an exclusive Masterclass on the Cava Designation of Origin, where we explored new developments in the segmentation and zoning regulations, as well as the path towards sustainability and the commitment to the search for excellence and high quality.
The forty seats available filled up quickly, confirming the great interest in Cava. During the conference, Nicole Wolbers, a wine educator, blogger and consultant based in Germany, and a Cava Educator certified by Cava Academy, explained in detail the unique characteristics of cava, presenting a total of 6 Guarda and Guarda Superior Cavas.
"The great quality of cava is still under the radar of many German professionals. It is time to change that and show the great potential and quality of the bubbles of the Cava Designation of Origin"
Nicole Wolbers
Very familiar with the region and with cava after her last visit in April to the Cava Academy, she began with the Cava Cygnus Albireo Brut from the winery U mes U; then a Mercat Brut Nature by Molí Parellada; Cava de Guarda Superior Gran Reserva Cuvée Clàssic by Bodega Varias; a Rosado Barrica Brut by Carles Andreu; a Guarda Superior Gran Reserva Barrica by Agustí Torelló Mata; and finally, a Reyes de Aragón Brut Nature 2017 by Bodegas Langa.
"The innovations in the Cava D.O. are an important step in the right direction. Cava continues to offer a great value for the money, so people can enjoy these jewels in a glass even more".
Nicole Wolbers