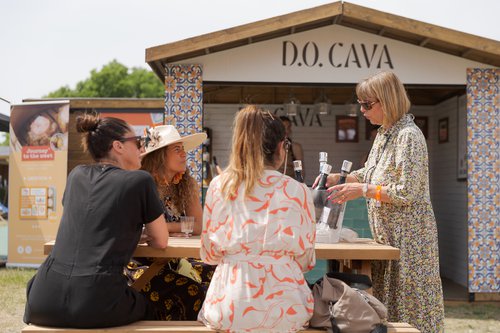 Summer is one of the best times to visit the United Kingdom. The days are longer and the distinctive London clouds tend to dissipate and make way for the sun, as the city's large parks fill for outdoor events, including the long-awaited Taste of London food festival in Saint Regent's Park.
It's one of the country's largest and most anticipated gastronomic events, where for five days, more than 50,000 visitors come to taste the best food and wines in the best company.
We were present at this gathering from July 15 to 19, offering quick, 15-minute tastings, perfect for the fast-moving visitors, in collaboration with the influencers certified by the Cava Academy: Laura Clay and Heather Dougherty.
"The tastings helped show off the positive aspects of cava (traditional method, sustainability, growing trend toward organic viticulture)"
Heather Dougherty
It's the perfect event to introduce cava and its benefits to end consumers, who were more than satisfied with this surprising event after tasting different types of cavas.
"Undoubtedly an introduction to young end consumers so they can learn about cava first-hand and how versatile it is with local and international cuisine.
"I had never heard of cava, but I'm definitely going to buy a bottle now".
Surprised by the high quality and different types of cavas available, this informal, fun gathering turned into a unique and crowded space during the festival.