"Start your conference with the bubbles of Cava!" was the enthusiastic suggestion of the expert global wine editor of SOMM Journal and The Tasting Panel, Deborah Parker Wong, who also hosted the Masterclass on Cava that opened this educational event on wine in the United States.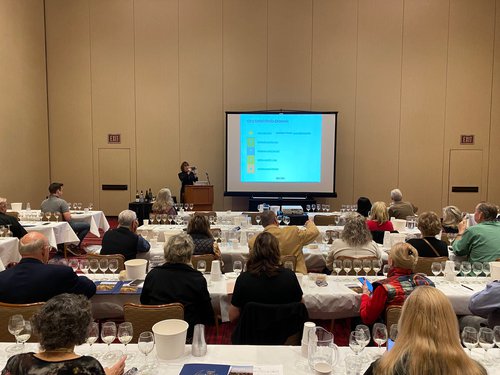 The 54th edition of the American Wine Society Annual Conference, which took place on 4 to 6 November in New Jersey, was a great success, with interesting seminars such as the Masterclass on Cava given by Deborah Parker Wong. This session kicked off the 2021 edition, with a presentation of the latest news from the Cava designation for 60 attendees, and a tasting of selected Cavas available on the US market.
"The wines selected for the national conference session were exceptional in their quality and variety of style. Not only did they demonstrate the categories of Cava de Guarda Superior Reserva and Gran Reserva, but they also showcased the sophisticated and elegant branding of today's Cava producers,"
Parker Wong said.
The wine-loving members of the association showed considerable interest in the new regulations as explained by the wine writer, especially the significance of sustainability that is integral to the project. According to Deborah Parker Wong:
"The D.O.'s ambitious goal of certifying 100% of Guarda Superior's organic production by 2025 is very commendable, and represents a huge added value for consumers."
During the session, a total of six Premium Cavas were tasted, from the wineries Agustí Torelló Mata, Avinyó, Mascaró, Maset, Mastinell and Vilarnau.