The recipes of the renowned and decorated Michelin-starred chefs Diego Guerrero, Michel Bras and Massimo Bottura have been prepared and paired with Cava in the cooking course "Star cuisine", promoted by the Basque Culinary Center Club.
During the last three months of the year, food lovers have been able to enjoy themselves preparing menus by great chefs, designed to pair each dish with a different Cava.
The Basque Culinary Club explains that these courses , with limited seating capacity:
"Bring haute cuisine closer to more domestic, everyday cooking. They are an opportunity to offer access to Michelin-starred cuisine to everyone who loves good food".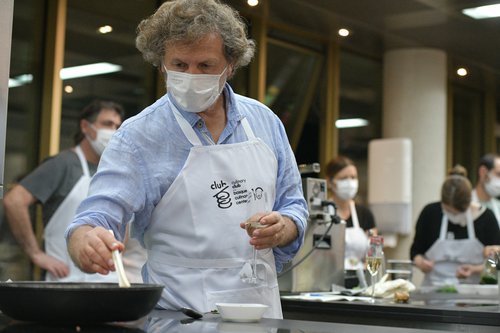 The attendees were not only able to enjoy the experience of learning new culinary techniques that can be practised at home, but were also surprised by the versatility of Cava and its ability to accompany and enhance gastronomically complex dishes.
At these gourmet evenings, emblematic dishes of each chef were prepared, such as the famous Gargouillou by Michel Bras, composed of more than 30 different vegetables; or the iconic dessert of the chef Massimo Bottura "Oops! I dropped the lemon tart".
Avant-garde dishes were accompanied by high-level Cavas at an event to learn new culinary techniques and the art of pairing with Cava.