Few things combine better than a glass of cava and jazz, with its syncopated, cheerful and creative rhythm, just like the variety of cavas and cava styles, providing a unique experience for the senses.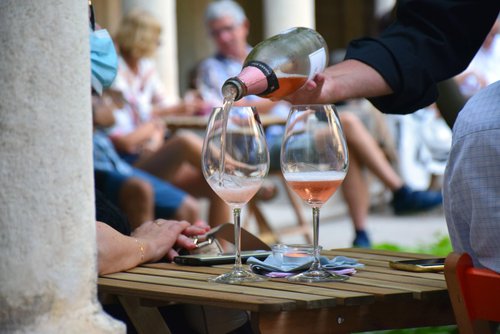 The close bond between the two make their time together a delicate experience, which is why music festivals such as Vijazz have taken hold in Spain's music landscape. An event that combines wine with top musicians from the world of international jazz, creating essential evenings for lovers of wine and music.
And so, during the weekend of July 1, 2 and 3, the Cava D.O. sponsored the "Cava D.O. Space: Women and Jazz", located in the beautiful Renaissance cloister of San Francesc in Vilafranca del Penedès, which was one of the main stages of the 15th edition of the wine and music festival.
Pink cava flows to the beat of musical offerings from young artists, paired with red berries. A passionate evening to enjoy endearing melodic and sensual creativity.
Plus, to kick off the festival, a delicious proposition: a tasting of high-quality cavas paired with craft cheeses from the Xerigots dairy.
An infallible pairing that attracted more than 70 consumers to discover the organoleptic characteristics of each cava and the perfect pairing with each type of cheese, once more showcasing the versatility of these quality Designation of Origin bubbles, and how cava is the perfect pairing for any cheese, capable of enhancing its qualities. The tasting included a selection of four Cavas de Guarda Superior from the wineries: Bolet; Freixenet; Muscàndia and U més U.