December is synonymous with joyful get-togethers and long after-dinner conversations replete with unique and surprising moments. This year we anticipated the celebration of Christmas Day with an extremely special evening in a privileged space with the best views of Barcelona - Òleum restaurant at the MNAC museum in Barcelona.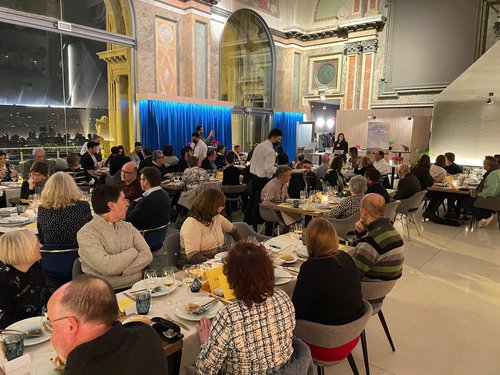 At this highly gastronomic evening, subscribers, collaborators and associates of CUINA food magazine enjoyed a traditional Christmas menu, paired from start to finish with different Cavas de Guarda Superior. In addition, representatives of D.O. Cava wineries and top-level guests attended, including the chef Carme Ruscalleda and the director of the Fundació Alícia, Toni Massanés.
Exciting news about the magazine's upcoming plans for next year, surprises and live music were accompanied, between mouthfuls, by the magical sound and dancing on the palates of the marvellous bubbles of Cava.
During the dinner, a sommelier from the D.O. Cava introduced the different pairings to the attendees, explaining fully how the exquisitely versatile Cava bubbles matched with each dishes on the menu, consisting of:
Giant cannelloni filled with mushroom béchamel, paired with Cava de Guarda Superior Col-lecció Privada from Cavas Hill; prawn and potato salad with citrus vinaigrette with a delicious rosé, El Mercat Brut Rosé; saffron fish casserole paired with Gran Reserva Bolet Cartoixà; a sublime veal tagliata with truffled potato parmentier, with a Gran Reserva 100% Chardonnay from Jaume Serra; and of course the typical desserts: nougat and wafers, accompanied by the Gran Reserva de Bertha S. XXI rosé and Reserva el Xamfrà from Molí Parellada.