Belgium is one of the main export markets for Cava, a country with considerable interest in, and knowledge about wine, as well as a great familiarity among both Belgian professionals and consumers.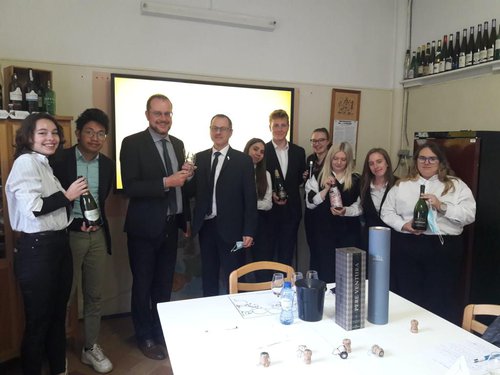 From 8 to 25 November we visited some of the leading and most renowned hotel and catering schools in Belgium. In the cities of Koksijde, Namur and Maastricht, we reached more than 100 students in their seventh and final term specialising as chefs and sommeliers.
Training Cava's future champions and disseminators in the HoReCa channel, and specialising in wine, are essential to communicating the high quality of Cava, made following the traditional method, as well as demonstrating its impressive versatility, ideal for accompanying any cuisine in the world.
For this reason, Germán Muñoz, whose qualifications include agricultural engineer and wine industry disseminator, supported these training sessions, accompanied by a tasting of a selection of five premium Cavas currently available on the Belgian market:
- Alta Alella Mirgin Laietà. Cava de Guarda Superior Gran Reserva
- Agustí Torelló Mata Brut Reserva 2018. Cava de Guarda Superior Reserva
- Juvé & Camps Singular. Cava de Guarda Superior Gran Reserva
- Pere Ventura Tresor Cuvée Barrique Brut 2017. Gran Reserva Superior Cava
- Vilarnau Rosé Delicat Brut. Cava de Guarda Superior Reserva