It is said that 80% of the flavours that we taste come from our sense of smell. In fact, the truth is even more extreme: most of what we term flavour is not connected with our sense of taste itself at all, but instead with our olfactory perception.
This explains why our food has no flavour when we have a cold - because aromas are sent to the mouth in a process called olfactory referral, and a blocked nose can't sense, or send, smells. In short, scent has a hugely significant impact on our impression of what we eat and drink. In the case of a product that is consumed for pleasure, such as wine, aroma is even more important.
François Chartier, the world's number one specialist in gastronomic aromas, has invented a revolutionary system of evaluating how harmony between wines and dishes is created. He uses an in-depth analysis of the aromatic molecules which make up wine and food. The Canadian sommelier and writer, described by many as a "créateur d'harmonies", began studying molecules in 2002, determined to find those which wine and food have in common. After lengthy research, Chartier published a book on the subject, Tastebuds and Molecules (Houghton Mifflin Harcourt), a must-read for all sommelier and cookery students around the world.
Here comes the science bit…the molecular analysis of Cava
This year Chartier published a scientific study into Cava, to find the best pairings with different cuisines from around the world. His research, carried out in conjunction with the Cava Regulatory Board, seeks to demonstrate scientifically that Cava is an ideal wine for creating perfect harmonies with an infinite number of flavours.
The results of this ambitious project were presented during the first edition of Barcelona Wine Week (BWW), and generated high expectations. Chartier, accompanied by the chairman of the Cava Regulatory Board, Javier Pagés, explained his approach to Cava from a scientific perspective to an audience of 60 honoured guests.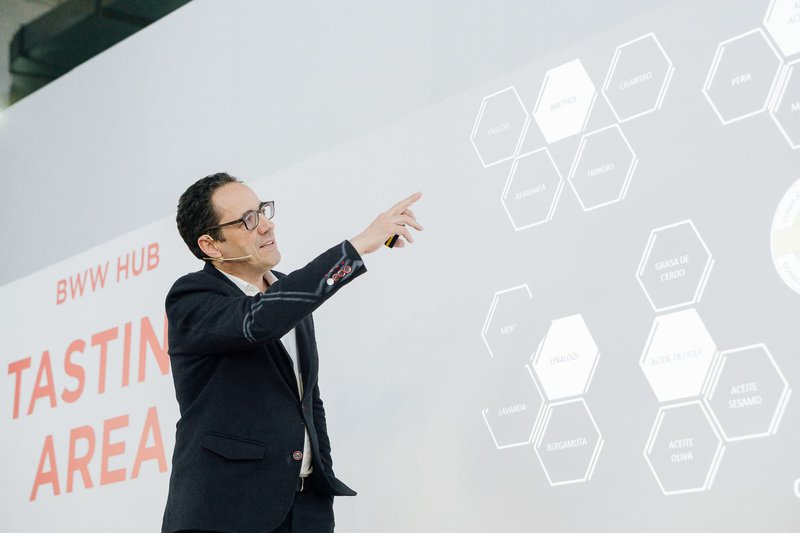 To carry out the study, gas chromatography and other laboratory techniques were used to determine the aromatic profile (dominant molecules) of the main Cava categories: Cava de Guarda (with a minimum of nine months aging), Reserva (over 15 months), Gran Reserva (over 30 months) and Paraje Calificado (over 36 months). Once the dominant molecules had been detected, the foods and drinks which contain these same molecules were investigated in order to identify the complementary ingredients for each of the categories. A map has been created for each molecule, showing Spanish and international dishes or ingredients with which it has a high level of aromatic synergy.
Maps, molecules, synergy... It all seems far away from the normal idea of enjoying a good dinner accompanied by a glass of Cava. In addition, when we talk about pairing food and wine, multiple other factors should be considered. Our perception of wine is influenced by the glass in which it is served, the serving temperature, the company, our own lived experiences, genetics, social traditions, and cultural context. So while it seems ill-advised to simplify Chartier's process – since his work is anything but simple - it can be understood as a tool that helps us to organise information and dispel misconceptions.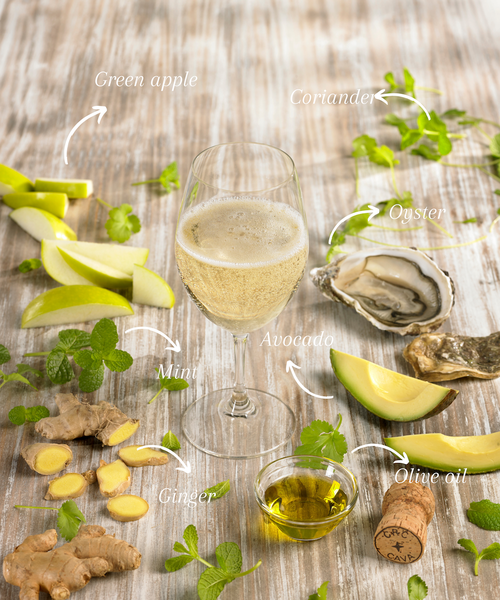 A guide to creating harmonies
Chartier's work should be used as a roadmap to creating pairings confidently, allowing us to designate a framework within which we can match the different categories of Cava with varied regional and world flavours. Sometimes this will create a good pairing, and at other times a truly spectacular one, depending on the Cava and dish in question, while safe in the knowledge that we cannot go far wrong.
Obviously there exists a great wealth of styles within Cava: different grape varieties, types of soil, vintages, lengths of bottle aging before and after disgorging, changes in winemaking techniques, etc. This topic is fascinating - even a Cava aged for nine months tastes quite different from the same Cava which has spent longer in the bottle, either in the cava (cellar) or at the consumer's home. Therefore the longer-aged wine can clearly change its taste interactions.
Chartier explains that the factor which has most impact on the dominant aromatic profile of Cava, probably more than any of the variables mentioned above, is the traditional method. He claims that if we review the molecular profile of a still wine made from Xarel-lo grapes, it will be distinct from a Cava produced with the same variety using the traditional method.
In Cava de Guarda Superior there are many notes of roasted coffee and dark chocolate, which are very difficult to find in wine
François Chartier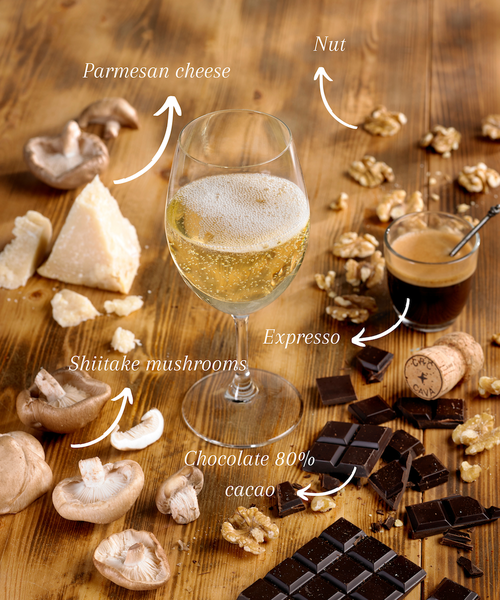 His study also inspires and challenges us to create pairings that we wouldn't normally try. In Cava de Guarda Superior, for example, it is surprising how many notes we can detect of roasted coffee and dark chocolate, which Chartier himself says are uncommon but which abound in this case. One of the most surprising pairings is that of Cava de Paraje Calificado with dark chocolate.
How chemical reactions affect the taste of Cava
Chartier points out that the ageing on lees and the low pH (2.95-3.15) of aged Cavas result in the environment required for Maillard's reaction, similar to that found in barrel-aged white wines. This is a type of chemical reaction much more studied in gastronomy, which takes place between sugars and amino acids or other substances, and which produces a remarkable caramelisation. This leads to a modification in the wine's composition, and has a strong sensory impact. For example, Cava Gran Reserva, which is aged for more than 30 months, is marked by the autolysis of the yeasts and has a more toasted aromatic profile, with notes of butter, candies and in some cases, touches of mushrooms and truffles, depending on the vintage and bottle aging.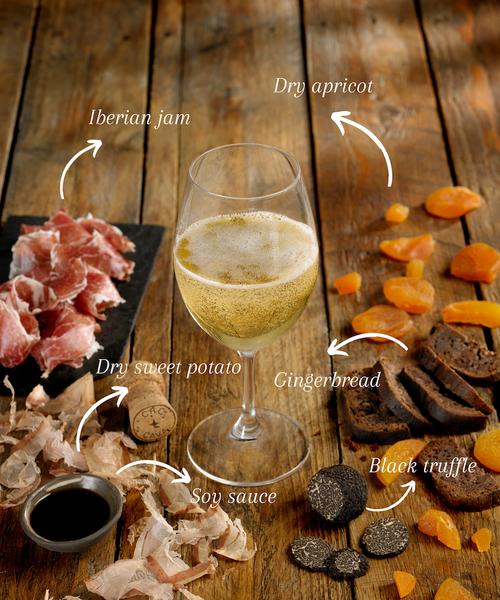 What Chartier found most surprising when he tackled this project was that Cavas are brimming with key molecules that are essential in international cuisine, such as aniseed or fennel, proving how this sparkling wine is capable of combining perfectly with an infinite number of flavours from around the world. This is another of the central points in the Canadian sommelier's proposal. Let's consider that condiments, garnishes and sauces can have a greater influence on the dominant taste of a dish than the main ingredient - so Cava makes it easy for us. For example, we can add a mushroom sauce to roast meat or a pasta dish and thereby create a perfect harmony with a Cava de Paraje Calificado.
Let's not forget that many of the great chefs already rely on Cava to accompany their haute cuisine tasting menus, once again demonstrating what few wines can achieve with such ease. Now it is the turn of sommeliers and wineries to put Cava on the table. Let's not forget that before being an excellent espumoso (sparkling wine), it is also a wine. The study carried out by Chartier is a useful tool for achieving this, through harmonies that are easy to understand and reproduce both in restaurants and at home.
As Patrick Süskind points out in his famous novel Perfume: The Story of a Murderer: "He who ruled scents ruled the hearts of men" - and nobody does this like Cava.
Among the dominant molecules of Cava de Guarda, herbaceous notes stand out, which combine perfectly with coriander, fennel and mint. You can create excellent harmonies with dishes as different as a salad with fresh mint, a cold apple and mint soup, or lamb with mint.
François Chartier