The fine bubbles of Cava, and its markedly Mediterranean flavour and influence, are an excellent choice for pairing with Japanese cuisine. Many prestigious restaurateurs in Japan recognise that Cava enhances their avant-garde gastronomic creations exceptionally well.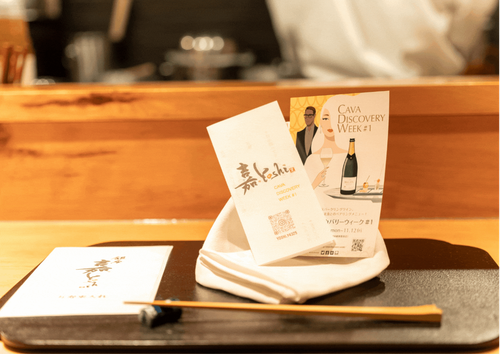 The excellent versatility of Cava was revealed over 12 days in 22 gourmet restaurants in the Ginza district of Tokyo, one of the most emblematic, upscale and gastronomic areas of Japan's capital.
From renowned Michelin-starred fusion restaurants to typical Japanese cuisine including the deadly fugu (puffer fish), experts came together from 1 - 12 November for the acclaimed Cava Discovery Week, the first in Japan.
The restaurateurs of the city's prestigious district welcomed this initiative by the D.O. Cava with great enthusiasm. A total of 44 Cavas were introduced to pair with seasonal menus specifically prepared to enjoy with the quality Spanish sparkling wine.
In a week marked by the ending of restrictions in the restaurant industry, more than 650 people enjoyed this initiative in Michelin-starred restaurants such as Zurriola, Makiyaki Ginza Onodera, Ginza Sushiko Honten, Bird Land and Nodaiwa Ginza, among many others.
The event, which was illustrated by the acclaimed artist Jordi Labanda, made a strong impression on Japanese society, with locals eager to repeat the experience soon. As a result of the initiative's considerable success, some of the participating restaurants chose Cava to accompany their menus, not only during Cava Discovery Week, but also as a regular addition to their wine list.