The origins of Cava as we know it are closely linked to the late 19th century, with Josep Raventós i Fatjó making some of the first bottles in Sant Sadurní d'Anoia, Penedès, in 1872, using local varieties and méthode Champenoise. Just ten years later, following the devastating phylloxera louse effects that decimated large areas of land under vine in Europe, many Cava vineyards in Catalonia are replanted with the Xarel·lo, Macabeo and Parellada varieties. Fast forward to 1888, and we find ourselves at Barcelona Universal Exposition, Spain's first international World's Fair that left some of the iconic monuments to our beloved Mediterranean city, including the Columbus Monument or the Arc de Triomf made in Modernista style, and confirming the official emergence of this new artistic and cultural movement. Other masters of Modernisme such as Domènech i Montaner or Antoni Gaudí also contributed designs and pavilions. It was then official: the Catalan Art Nouveau, or Modernisme, was born - and so was the sparkle of Cava.
Modernisme famously tapped into the playful Catalan artistic impulse, coinciding with Catalonia's late 19th-century industrial prosperity. In architecture, it replaced straight lines with the curved ones, introduced natural elements like flowers and fruits and embraced decorative excess, adopting a unique form and personality, just like Art Nouveau or Art Deco did in France, Belgium, England or Austria. Reaching out beyond purely aesthetic purposes, the movement extended to new building shapes, their environment and everyday objects, and its presence in Catalonia was not limited to cities: smaller towns and countryside still boast some exceptional heritage from that period. Penedès was no exception: its different areas and municipalities, including the 'Cava capital' Sant Sadurní d'Anoia, are home to architectural monuments that are a true sight to behold. Shall we discover some of the most impressive examples?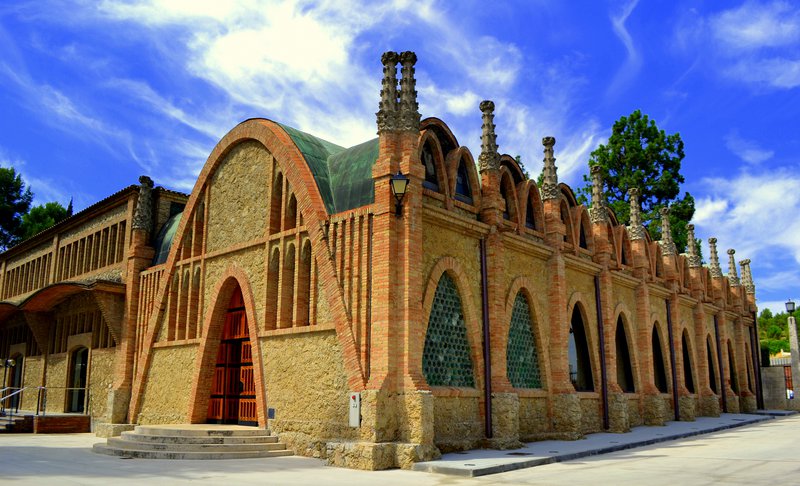 The starting point of our Art Nouveau route through Penedès wine region in the capital of Cava, Sant Sadurní d'Anoia. At the end of the 19th century this urban centre of Cava production witnessed not only the great shift in the viticultural map of the surrounding vineyards and the increased interest towards white grapes, but also a true industrial boom that, just like in other parts of Catalonia, moved many successful business owners of the time to commission impressive Art Nouveau style residences and cellars to the leading architects. One such example is Casa Lluís Mestres, designed by Santiago Güell in 1909-1910 in the midst of post-phylloxera economic recovery, to be completed two years later, in 1912. Its façade is hard to miss thanks to the nature motives-ridden mouldings and floral ornamentation foundry work on the main door. Just outside the town limits we find one of the most notable examples of Art Nouveau civil architecture: the impressive Codorniú cellars. Built between 1895 and 1915, they were commissioned by the Codorniú's driving force and one of the key figures in Cava history and economy Manuel Raventós to a great master of Catalan modernisme, the architect Puig i Cadafalch. The ensemble is a complex fabric of industrial constructions, with the exposed brick semicircular arches in the main cellar, supporting lowered vaults that reach the façade. Underneath is a true labyrinth of underground cellars, where Codorniú Cavas undergo their second fermentation and ageing at a constant temperature.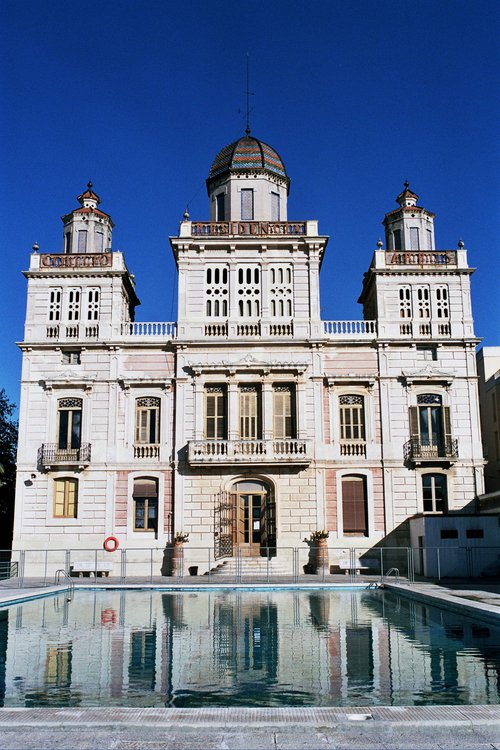 From Sant Sadurní d'Anoia we shall travel to Baix Penedès, to the town of L'Arboç in Tarragona province - the very heart of this geographic area, filled with many beautiful vines giving birth to some of the best still and sparkling wines. El Palau Gener i Batet is designed in eclectic Modernisme style and was completed in 1877, after complex architectural works that lasted 12 months. This magnificent building is named after Arboç native Josep Gener Batet, who became the third richest man in all Spain at the time, having built his fortune in Cuba with the tobacco company La Escepción and returning to his home town in 1873. In his desire to showcase his lifetime achievements, this great industrialist and merchant commissioned this residential palace boasting a balcony with a balustrade, two watchtowers and views over an impressive garden.
Staying in Baix Penedès, our quest for Modernisme takes us to Cal Pla in the town of Cunit - an impressive masia, a farmhouse in Catalonia. This three-storey will surprise you with its large balcony and an imposing polygonal tower that was created as a perfect viewpoint to the surroundings — originally, a variety of different crops in the northern part of the town. Built between 1911 and 1929, it was partially designed by the French landscape architect Jean Claude Nicholas Forestier, also responsible for the famous Champ-de-Mars gardens below the Eiffel Tower in Paris or Montjuïc gardens in Barcelona. A touch of well-integrated French influence that we also recognize in some Cava coupages with the presence of Chardonnay or Pinot Noir!
Chardonnay and Pinot Noir are just two of the nine grape varieties authorized in the production of Cava. This diversity allows for a wide range of different styles, and so does a variety of Cava vineyards. Let us explore some of them by heading to the Garraf area where we will find Celler Güell, located in a small town of Garraf, just a short drive away along the scenic coastal road between Sitges and Barcelona. This Modernista building complex was created towards the end of the 19th century for the industrialist and entrepreneur Eusebi Güell i Bacigalupi, first Count of Güell. Güell was a patron and promoter of arts, and as many families of the time, he owned a number of vineyards in the Garraf area. Grapes from those vineyards were destined for wines, and its pomace, for spirits, and so a cellar was commissioned, that was later joined by a house and a chapel. These asymmetric neo-Gothic style-inspired constructions are sometimes attributed to Francesc Berenguer i Mestres, Antoni Gaudí's disciple, or even to Gaudí himself, but their exact authorship is shrouded in a cloak of mystery. Just like some of the greatest things in life — think of the murky origins of the first sparkling wine in history.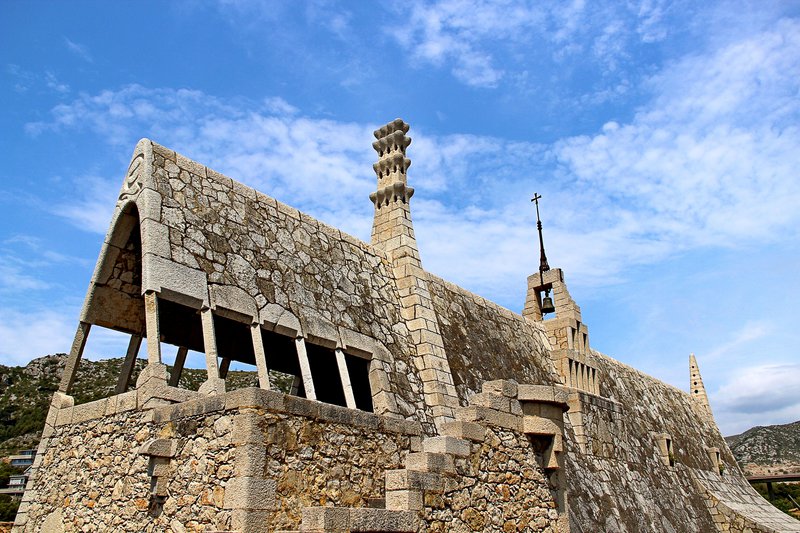 Güell is a historic surname in Catalonia that gave this area prominent entrepreneurs, lawyers, politicians, and architects. Santiago Güell is the man behind our next Modernista work, Casa Guasch i Estalella in Vilafranca del Penedès, the capital of Alt Penedès, whose entire area is included in the DO Cava territory. This beautiful house with an intricate nature-inspired ornament was originally built as a residence in 1905, and currently houses a farmacy on the ground floor. Every element here is designed with the utmost level of detail, from semi-arched doors to wrought iron balcony railing. As for the exact location, you will surely have no trouble remembering the name of the street where it's located: Parellada. This grape often plays a supporting role in the Cava blend, but when grown in the right conditions - often involving higher-altitude plantings — its delicacy and finesse truly shine through. Besides Casa Guasch i Estalella, Vilafranca de Penedès offers a rich Modernista heritage comprising most varied types of buildings: family homes, administration premises and of course wine and spirits warehouses, clear exponents of the importance of industrial architecture in this area.
These are just six monuments in the complex Modernista mosaic of Penedès, all of them proving the strong presence of this movement in Catalonia in all areas, including its burgeoning wine industry. Six more reasons to explore the incredibly rich heritage of the Cava country!