During the final months of 2022, Cava was the star of highly exclusive parties in Barcelona. Working together with renowned chefs and personalities from different disciplines, Live Cava highlighted the sparkling wine's value, celebrating the effort and tradition that goes into each bottle of Cava.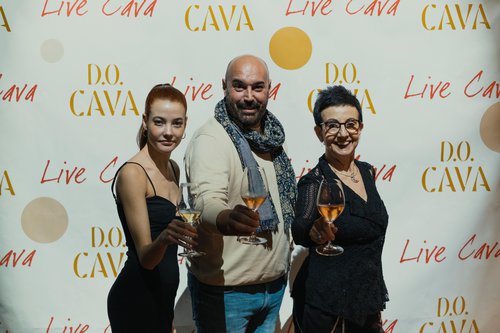 The last of the festivities was held on 15 December at the Reial Cercle Artístic de Barcelona, an emblematic palace located in the heart of Barcelona that features striking Gothic windows and Renaissance reliefs.
The journalist and presenter Llucià Ferrer was the master of ceremonies at each of the parties, during which he talked to the celebrated Cava ambassadors. On this occasion, the renowned chef Carme Ruscalleda and the model and actress Mireia Oriol formed the duo for the final gathering of the year.
At the event, Carme Ruscalleda explained the versatility of Cava, told anecdotes and shared a delicious recipe using Cava that she had prepared in Japan:
"As well as being a product to drink at all hours, Cava respects the dishes with which it is paired; it is an amiable wine, and gets along well with whatever you are eating. In Japan, Cava is ideal to accompany the country's delicate and elegant gastronomy."
CARME RUSCALLEDA
In addition to being a lover of wine tourism and learning the secrets of Cava from her aunt, Mireia Oriol always has Cava in mind for toasting both her achievements and new goals:
"For me, Cava is a celebration: I always uncork an excellent bottle when I start an exciting project."
MIREIA ORIOL
These renowned ambassadors have embraced the Cava brand, praising the characteristic quality that differentiates it, and enjoying the different styles of Cava available at these exclusive after-work style meetings attended by prestigious guests and Barcelona's high society.
In addition, during the events, the pairing potential of Cava was also explored informally with a selection of gourmet tapas including Collverd foie, Poget oysters, Real caviar, Swiss cheeses, Iberian acorn-fed ham, Carpier smoked products and Catanies Cudié.