Autumn in the vineyards is one of the most colourful seasons of the year, when the vine leaves turn beautiful shades of red, yellow and brown. This is undoubtedly an excellent time to enjoy the wonderful landscapes of the Cava D.O.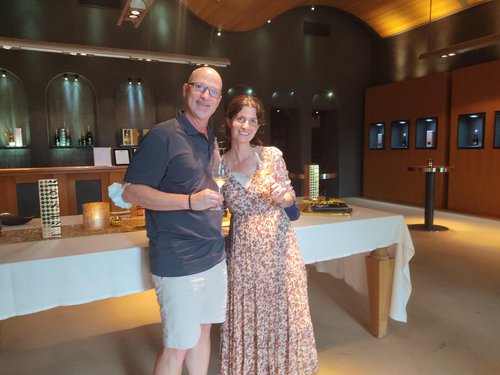 This autumn, we welcomed Rick Fisher, Director of Education at the Spanish Wine Scholar™ programme, to the heart of Cava. Already well-informed about the new regulations and the latest developments in the D.O. Cava, Rick was able to see first-hand some of the wineries that produce Cava de Guarda Superior Paraje Calificado, to taste their Cavas, and to learn about the special origins of this unique category.
His visit took in the headquarters of the Cava Regulatory Board, where he was enthusiastically received by the general secretary, Alexandre Comellas; the technical director, Luis Marco; and the communications department, consisting of director Patrícia Correia, and Judith Manero.
Rick, who is American by nationality and of Spanish descent, is a great ambassador for Cava, as well as being passionate and knowledgeable about Spanish wine culture. The educational programme that he directs, the Spanish Wine Scholar™ (part of the Wine Scholar Guild), has been endorsed by Vinos de España (ICEX – Government Agency for Export and Investment) for its precision, detail and academic rigour. Offered in more than 30 countries, and in-person in the US, this programme confers a postnominal on wine professionals and enthusiasts who pass the certification exam.