BAOS GOURMET, Baos with squid ink, prawns and wasabi mayonnaise And what better than accompanying them with a few bubbly glass of Cava de Guarda Superior Gran Reserva? 🥂
We sparkle up every meal with D.O. Cava by enjoying the different types of Cava, ideal for pairing any of our recipes. You don't need a celebration to uncork a bottle of Cava, here are the ingredients for these gourmet Baos.
Ingredients
Baos
130 g wheat flour
10 g fresh yeast
2 g baking powder
5 g coconut sugar
1 g salt
25 ml water
45 ml whole milk
15 ml sunflower oil
4 ml squid ink
For the filling:
80 g salt
6 prawns
25 ml soy sauce
2 tbsp mayonnaise
1 tsp wasabi
Roasted sesame seeds
Fresh coriander, chopped
Fresh chives, chopped
Instructions
1
Preparing the bao In a bowl mix the flour with the baking powder, coconut sugar and salt. Then, in another bowl, combine the milk with the water, sunflower oil, squid ink and fresh yeast.
2
Once everything is mixed well, slowly add the liquid to the bowl of dry ingredients. Knead well until you get a homogeneous dough. Leave the dough to rest for 30 minutes.
3
Place the dough on baking paper, divide into four equal parts, and shape into balls. Cover with a damp cloth for about 10 minutes.
4
Then, roll the dough balls into an oval shape using a rolling pin, and fold each bao in half, placing some baking paper in the middle to prevent it from sticking. Cover with a damp cloth and leave for a further 30 minutes.
5
Cook the baos in a bamboo steamer (put baking paper in the base of the steamer to prevent them from sticking) for about 10 minutes.
6
Preparing the filling Put 1 litre of water and 50 grams of salt in a pan, and bring to the boil. Meanwhile, prepare a bowl with another litre of water, 30 grams of salt and 4 ice cubes.
7
When the water is boiling, add the prawns and turn off the heat. Cover the pan and leave the prawns for two and a half minutes.
8
Take the prawns out and put them in the bowl of cold water for 5 minutes.
9
Peel the prawns. Heat some oil in a frying pan and warm them on both sides.
10
Add the soy sauce, stirring carefully so as not to break up the prawns, until the sauce is reduced.
11
In a bowl, mix 3 tablespoons of mayonnaise and a teaspoon of wasabi.
12
To serve, take a bao and in the middle put a small dollop of wasabi mayonnaise, 1 or 2 prawns (depending on the size), and sprinkle some roasted sesame seeds and chopped coriander on top.
13
Finally, garnish the dish with some chopped chives.
@ConCucharaYTenedor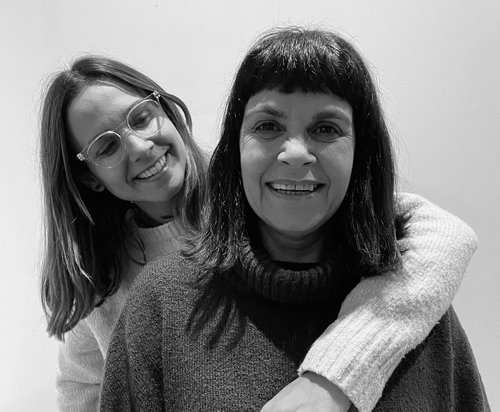 ConCucharaYTenedor, is a gastronomy blog created by Rosa Maria and Txell, a mother and daughter team who share the same love of cooking. Both are passionate about experimenting with tastes, textures and colours to create extraordinary dishes.