Cava was present at one of the leading events for the hospitality industry, specialised trade and gastronomy: the Gastronòmic Forum. This event is held in Barcelona at the beginning of November and coincides with Catalan Wine Week, organised by INCAVI (Institut Català de la Vinya i el Vi).
The D.O. Cava participated in the forum's programme and Wine Week with a presentation and tasting under the title "D.O. Cava: From the traditional method to excellence".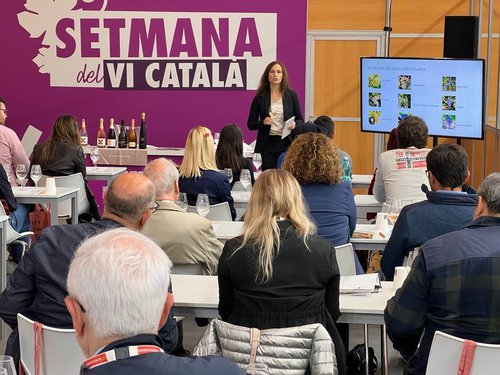 Sommelier and journalist Sílvia Culell talked about the new developments within the Designation of Origin, specifically the latest changes regarding segmentation and zoning.
Another key factor highlighted was the ageing of Cava: the different particularities of each category were shown in a tasting of top-level Cavas de Guarda Superior. This presentation took in the different categories of Guarda Superior, from Reserva to Paraje Calificado, with a varied selection that included a special single-varietal, barrel-fermented Macabeo from Agustí Torelló Mata; a unique Paraje Calificado Chardonnay and Xarel-lo from Alta Alella; a distinctive single-varietal Parellada from Maria Rigol Ordi; a traditional coupage from Mastinell; and a fresh rosé from Molí Parellada.
Silvia Culell also pointed out the sector's efforts in the field of sustainability, strengthened by its commitment as shown in this tasting of all-organic Cavas.