The Maritime Museum of Barcelona was the unique setting for yet another year's Verema Experience in November. This event brings together wineries, wine-lovers and professionals from the sector, and the HoReCa channel, in a day of showrooms and guided tastings.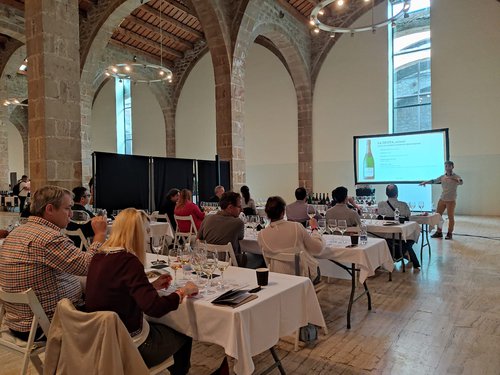 The D.O. Cava opened the day with a guided tasting in which 40 Spanish professionals were able to discover first-hand the latest developments within the Designation of Origin, and to taste a selection of seven Cavas de Guarda Superior.
The designation's vocation towards sustainability, and its commitment to organic production, are clear. During the guided tasting, progress in both these areas was highlighted: from 2025, Cavas de Guarda Superior will be 100% organic.
The new regulations, high quality, and focus on long ageing were highlighted in this revealing tasting. The first Cava tasted was Cava Microtiratge 7, a 100% Trepat from Maria Rigol Ordi winery, which surprised with its freshness and its evolution in the glass during the tasting. Next was followed by Cava de Guarda Superior Gran Reserva from Sumarroca, a complete classic due to its combination of the three typical varieties and with more than 30 months of ageing in the bottle.
The following Cava, Guillem Carol, from Carol Vallès winery, was described as unctuous and structured. Anhel, the ground-breaking Blanc de Noirs from the Muscàndia winery, showed delicacy and elegance in the mouth; then a 100% Garnacha from Pago de Tharsys winery impressed those present, and not only because of its ceramic label. Carpe Diem Cava from Mastinell was vibrant and fruity. The tasting ended with La Ticota from the Avinyó winery, a complex and characterful 100% Xarel-lo Cava aged for more than 60 months.