Wine tourism is an essential part of wine culture, allowing us to learn first-hand about the secrets and details behind every sip of Cava in our glass.
This year, coinciding with the celebration of the IWINETC, held for the first time in the city of Tarragona, the Cava D.O. was the centerpiece at the inaugural tasting session, with a practical section featuring a set of different premium Guarda Superior Cavas.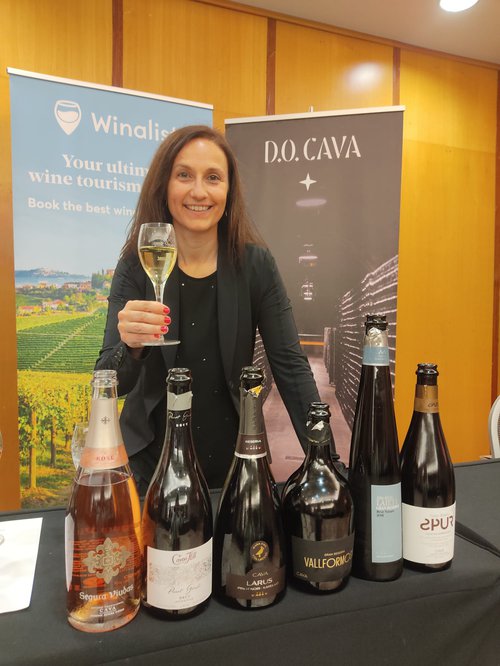 On the occasion, the wine tourism offerings of six Comtats de Barcelona wineries were made known, with a glass of Cava in hand. In collaboration with Segura Viudas, they offer walks in vineyards for the whole family, with breakfast, and a special ornithology outing. Cavas Hill, meanwhile, present with its Panot Gaudí Cava, offers private tours through which to discover its Cavas, defined by their extended aging and their focus on dosages. When night falls, U month U offers a tour combining art, the sky and the flight of the stork; an activity that allows one to dine outdoors and observe the constellation of the Stork (Cigüeña), which lends its name to its range of Cygnus Cavas, Rara Avis Collection.
Vallformosa offers multiple possibilities for MICE events, with an auditorium unique in the area and ideal for varied events in a rural setting surrounded by vineyards. We continue our route by visiting a winery overlooking the sea and the city of Barcelona: Alta Alella is a natural enclave open to all comers, and listing multiple activities, such as a 4x4 route, or a gourmet visit featuring their Cavas, distinguished by their prolonged aging, paired with a delicious meal. Finally, Giró Ribot is a winery at which one can enjoy endless activities, from a lunch to a charitable race, both amidst vineyards.
The event attracted 120 professionals specialized in the wine tourism sphere, importers and distributors in the HORECA sector, journalists and bloggers (wine, gastronomy and wine tourism), teachers from wine tourism schools, sommeliers and rural accommodations staff, who were able to learn first-hand about the wide range of Cava-related activities available. This was a unique opportunity to discover the territory and learn not only about different varieties and the traditional production method, but also to put a face on the people who turn out these Cavas, with their beatiful bubbles.
The International Wine Tourism Conference (IWINETC) is considered one of the leading events in the Wine and Gastronomy sectors, attended by professionals from around the world.