This spring, 14 top-level wine professionals from different markets, all with the WSET Level 4 Diploma, travelled to the Designation of Origin to be officially certified at the Cava Academy.
With this group, the Cava D.O. now has more than 400 official trainers of 50 different nationalities, who share their knowledge and teach about Cava around the world.
Vilafranca del Penedès, 19 April 2023. The Cava Designation of Origin has been visited by 14 prestigious professionals from the sector so that they can be certified as Advanced Cava Trainers.
This edition was open exclusively to WSET-certified educators, as the Cava Academy hosted the official trainers responsible for teaching different levels of the Wine & Spirit Education Trust, the world's largest provider of wine, spirits and sake qualifications. Some of the new Cava Trainers offer this training programme in their own specialised educational centres.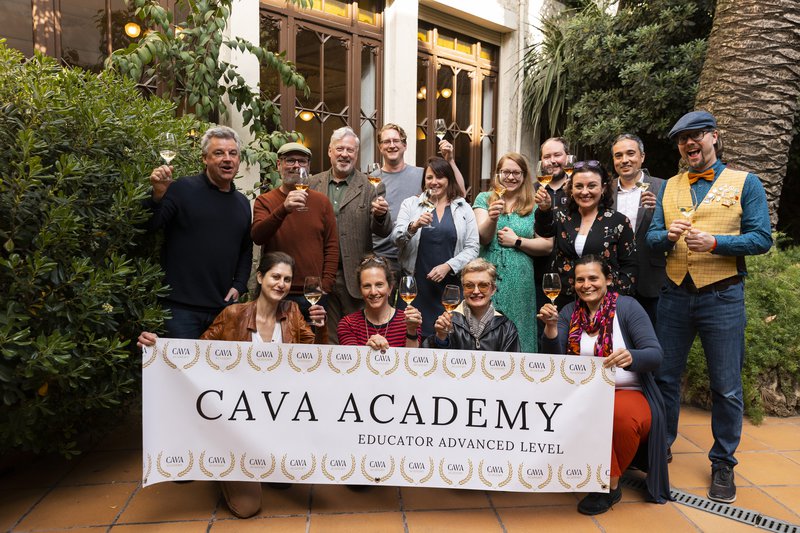 The training alliance is the result of a collaboration with the prestigious international organisation WSET, which aims to train professionals in Cava. The collaboration offers an exclusive opportunity to gain in-depth knowledge about the product, its new segmentation and zoning regulations, as well as the peculiarities of its traditional production method.
The D.O. Cava & WSET training programme is part of the Cava Academy, the training programme offered by the Regulatory Council of the D.O. Cava. Thanks to such a high-level joint educational programme, specifically designed for this group of trainers with rigorous learning standards, the Cava Academy is going from strength to strength.
Prior to their visit to the region, the educators successfully completed the online educational programme, an enjoyable, interactive course about Cava with a solid study base, which also includes a practical module on the different types of Cava, and a tasting of six representative Cavas from each category.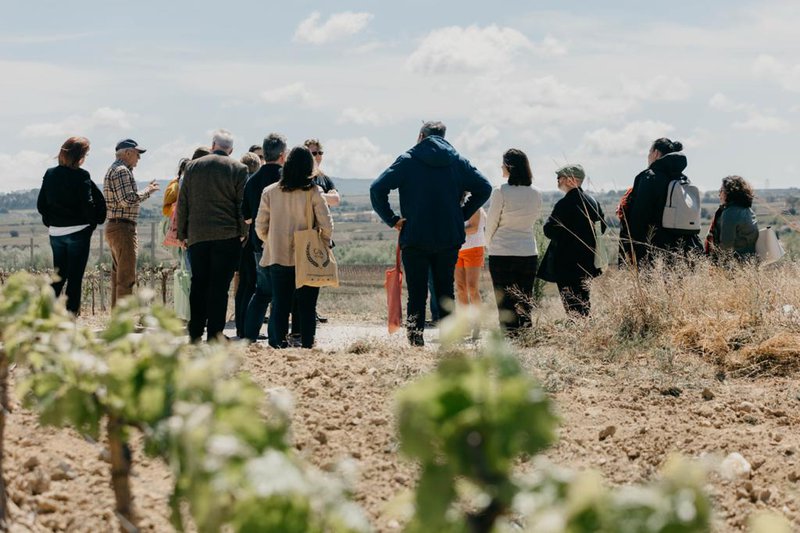 In addition, the on-site section of the course included two days of classroom training, in which the professionals completed an ambitious programme. This consisted of training modules on technical subjects, a comprehensive blind tasting with the Master of Wine David Forer, and a visit to five wineries and vineyards in the heart of Cava. The experience offered the Cava trainers a unique opportunity to exchange opinions with winemakers and winegrowers, true experts in the field who can clearly explain the diversity, excellent quality, and essence behind each bottle of Cava.
On this occasion, we were joined by a group of professionals from countries such as the United Kingdom, Ireland, the United States, Germany, Poland, and Equator among others. A unique experience, described by Anna Ferrier, owner of Aberdeen Wine School in Scotland:
"It's a great program to get to know Cava from the inside, its different categories, its style and its quality. We've discovered a great product, a great style of wine and it's great that you can experience it in person and meet a lot of amazing people."
Anna Ferrier, owner of Aberdeen Wine School
In addition, Victoria Aldwinkle, Co-owner and Lead Tutor of Kent Wine School, highlights the superb quality of Cava and the importance of raising the product's profile in its market:
"It has been a fantastic course, the creativity of the Cava winegrowers and wineries is really interesting, as well as seeing the passion and love they have for their wine and native grapes. The possibility to meet other educators, to establish contacts and to contribute ideas is the main thing to educate better. I certainly come back from this trip with a much more precise knowledge. It allows you to draw a much better picture of what is happening in that region and make the wines come alive for people."
Victoria Aldwinkle, Co-owner and Lead Tutor of Kent Wine School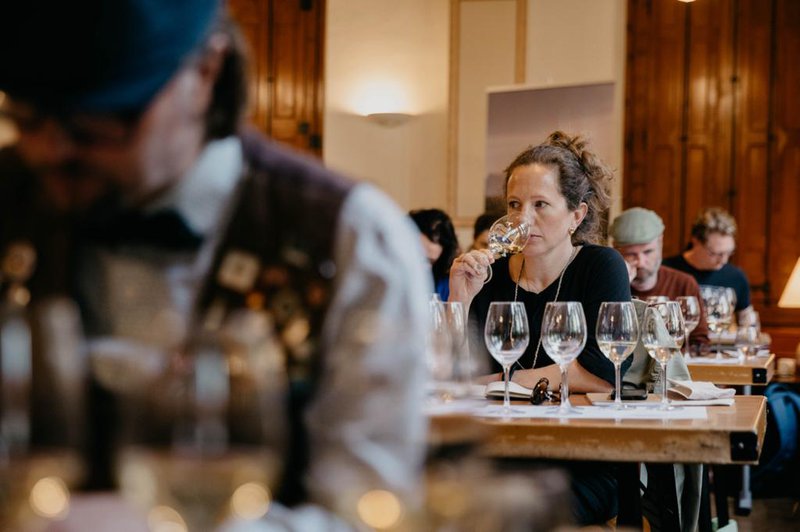 The aim of the Cava Academy presential course is for students to develop a realistic vision of what Cava is: its diversity and versatility, various Cava styles, wineries of different sizes, and diverse landscapes and soils. As Lauren Denyer, WSET course coordinator at the London school and Master of Wine Level 2 student, points out:
"There has been a lot of great information during the course, and it has been really well communicated. I have learned a lot and tasted some amazing Cavas, as well as having a great experience with all the fellow attendees. All this really helps in learning and remembering all the details and novelties of Cava".
Lauren Denyer, WSET course coordinator at the London school
In this immersive journey to the heart of Cava, visits were specially tailored to the study programme, addressing each subject in a tangible way. The unique activities included a workshop on blending Cava base wine at the Vilarnau winery; finding out about the new Integral Winemaker label at Giró del Gorner; exploring soils and Parajes Calificados at Vins el Cep; manual disgorging and long ageing at Mestres; and discovering Cava's gastronomic versatility at Segura Viudas.
Cava Academy, the official school for training in Cava, created in 2019 by its Regulatory Council, continues to promote education about the culture of this quality Spanish sparkling wine with a strong Mediterranean identity, made using the traditional method. Each year three online courses and one classroom-based course are available, each offering limited places for professionals in the sector.
D.O. Cava, commitment to origin, land and sustainability
With more than 70% of international sales, CAVA is the Spanish D.O. that exports the most. The CAVA industry has over 38,000 hectares of vineyards and more than 6,800 winegrowers, and its 370 associated wineries are present in more than 100 countries. CAVA, which pairs harmoniously with every type of gastronomy, is made using the traditional method, with a strict commitment to origin, land and sustainability.