There's no doubt that the seasons influence our moods - and tastes: when the good weather starts, we tend towards bright, lively wines. To get even more pleasure out of the warm temperatures, especially at events as important as the Verbena of San Juan, rosé Cava is the ideal companion. Today we are suggesting some gastronomic pairings to complement the most glamorous and seductive Cava.
How is rosé Cava made?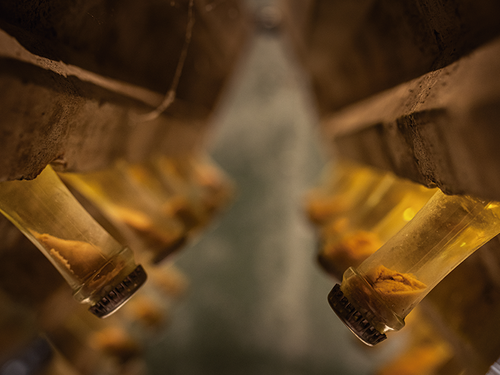 Before uncorking the sparkling pink bubbles and toasting the shortest:night of the year, firstly we should know that this wine's distinctive colour comes from the red grapes that are used to make it.
The base wine of rosé Cava can be composed of red grapes (at least 25% of the coupage, according to regulations) and white grapes, although many Cavas on the market use only red varieties. The colour is achieved thanks to the contact that the skins have with the must: the resulting tonality can vary from a pale pink to an onion skin colour, depending on the final blend, the maceration time, and the ageing time. The tendency is to use short macerations, especially for Cavas with less ageing time. There are five red varieties allowed for the production of rosé Cava: Garnacha Tinta, Subirat Parent, Trepat, Pinot Noir and Monastrell.
We can see, therefore, that rosé Cava differs from other Cavas in the varieties used to make the base wine. From then on, this pink Cava follows the same production process, with all the steps that make up the traditional method.
Pairings with rosé Cava
Rosé Cava is the queen of the after-work drink. This wine is characterised by its freshness, usually with notes of red fruits, fresh berries, bay, and flowers, which makes it very pleasant and easy to drink.
"Rosé Cava is especially suitable for the aperitif hour, thanks to its cheerful bubbles, freshness, and attractive colour. In addition, Cava assuages and balances the strongest, most complex flavours; it is a delicious appetite-stimulant that also boosts saliva production and creates pleasant sensory synergies with seafood, pickled foods, and other classic dishes served as an aperitif"
explains sommelier Ferrán Centelles
In addition, sparkling wines are extremely refreshing, and ideal for evenings with friends.
"I always imagine a rosé Cava on a terrace, ideally with a view of the sea, in summer, and with good company, paired with the orange and almost-pink shades of the sunset. There is no need for haute cuisine - a smoked salmon-based tapa is perfect"
says sommelier David Seijas
Rosé Cava is an ideal gastronomic companion. There are two basic options when choosing a wine for a meal: matching similar tastes, or using a contrast to those tastes. Cava, thanks to its excellent acidity and balance, is the ideal companion with food, as sommelier Ferrán Centelles continues:
"Cava is a versatile wine that also has a festive, glamorous component. On a gastronomic level, sommeliers use it in two basic ways; firstly, as a companion to tasting menus, when a series of dishes of various styles are served; secondly, for those dishes which don't pair well with still wines, as in the case of dishes with a high salt or vinegar content."
ferran centelles, sommelier
On the night of 23 June, Noche de San Juan, grilled sardines are served as a traditional dish in several regions of Spain. To accompany these richly-flavoured fish, we recommend a crisp Cava de Guarda Brut Nature rosé, which helps to cleanse the mouth of this oily fish's fatty texture, and creates an aromatic contrast with its intense smell, thanks to the fruity notes of the Cava.
It is always a challenge to find the ideal drink for summer evenings with family and friends, due to the wide variety of dishes served at such gatherings, where meat-based barbecues are especially popular. The strong flavour of grilled meat requires a full-bodied, creamy wine. The structure of a Cava de Guarda Superior Reserva or Gran Reserva, aged for more than 18 and 30 months respectively, makes it the perfect accompaniment to spicy, smoky meat.
Rosé cava pairs well with appetisers and salads, pasta and vegetable-based recipes, fish, seafood, stews and meats, in addition to desserts such as Coca de San Juan (traditional San Juan cake). There is an enormous variety of Cocas: they can be made with pine nuts, cream and candied fruit. The sweetness of this cake makes it ideal to serve with a Brut rosé Cava, which highlights the delicacy of the dessert and harmonises with its fruit, especially with candied cherries.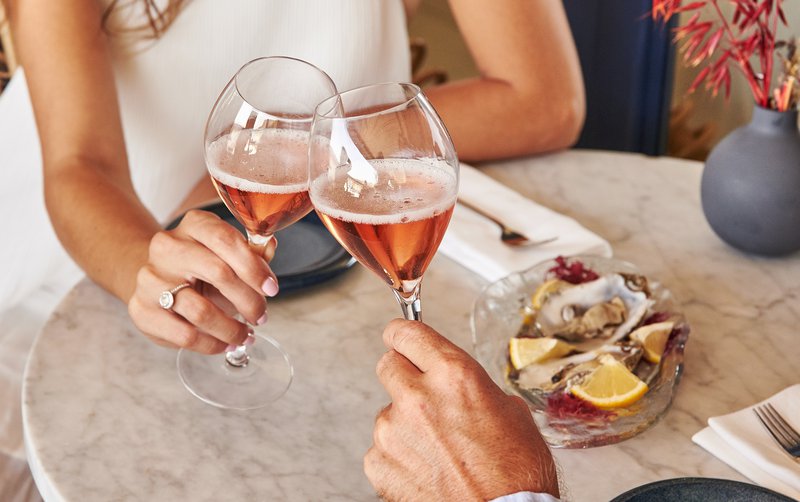 Pink-toned bubbles
Rosé Cava is unique for several reasons. Firstly, for its exceptional quality, determined by its origin. Secondly, because of the diversity of categories and the variety of styles or types of rosé Cava that can be found on the market. This wide range allows us to move from one Cava to another, depending on what we are going to eat, or how we are feeling at that moment.
"I really like the rosé Cavas with more restrained fruit; those that are completely dry. They showcase the varieties and climate of Spain extremely well, and the pairing options with this style of rosé Cava are endless"
comments Master of Wine David Forer
It's hard to beat a light, refreshing and fruity rosé wine in the warmer months. As journalist Ruth Troyano puts it:
"Colour is suggestive, and the colour of rosé is light, energetic, and optimistic – it brings good vibes. Ideally, serve it on sunny days, but it can also brighten up the greyest ones too." Everyone loves the bubbly version of rosé.
RUTH TROYANO, JOURNALIST AND SOMMELIER
Why not add some sparkle to your summer evenings?