Cava is the Spanish Métode Tradicional sparkling wine with the unique position of being the only Denominación Origen (D.O.) in the country allowing for multiple regions for production. That aside, 95% of Cava production occurs in one specific area of Northeastern Spain, the Penedès in Catalonia.
As a wine professional, chances are you are at least familiar with Cava, whether from its most productive and marketed bodegas, its current status as a go-to wine for quality cocktails and food pairings, or perhaps even from its unique storied beginnings. Originally referred to as Spanish Champaña due to its incorporation and adaptation of the French Méthode Champenoise, it wasn't until the 1970's that it became newly baptized as Cava, (the Spanish word for cave or cellar) so as not to incur strife with the more precedent French and their EU Protected Geographical Status (PGS).
Identity is important when discussing wine. It is pretty key as to why wine experts wax poetic about terroir, or how they sort out the organization of a wine list, and how they chat with their patrons about the stories behind each bottle sold. With regard to Cava, there are several main factors that culminate into its official identity.
Cava must be made using the Traditional or Champagne Method which undergoes secondary fermentation in the bottle.
Cava must age for a minimum of 9 months in the bottle on its lees.
Cava can be made white or rosé.
White Cava varieties are mostly a blend of the standard three grapes: Macabeo, Paralleda, and Xarel·lo. However, Chardonnay, Pinot Noir and Subirat Parent (Malvasia) are also allowed.
Rosé Cava must be made Saignée using one or more of the following red varieties: Garnacha, Pinot Noir, Trepat and Monastrell.
Cava is produced in the designated regions within Catalonia, Aragon, Castile and Léon, Extremadura, La Rioja, Basque Country, Navarre and Valencia.
Cavas are classified in two ways: sweetness levels and aging.
The last of these regulations warrants some extrapolation. The sweetness levels are determined by the adjustment of dosage, or addition of wine and sugar before bottling with the following styles:
Brut Nature: 0-3 grams of residual sugar per liter
Extra Brut: 3-6 grams grams of residual sugar per liter
Brut: 6-12 grams of residual sugar per liter
Extra-Seco: 12-17 grams of residual sugar per liter
Seco: 17-32 grams of residual sugar per liter
Semi-Seco: 32-50 grams of residual sugar per liter
Dulce: 50+ grams of residual sugar per liter
The classification of age is determined by the length of time the wine spends in the bottle aging with its lees. The specific categories are as follows:
Cava de Guarda (Traditional Cava): 9 months minimum
Cava de Guarda Superior:
Cava Reserva: 15 months minimum
Cava Gran Reserva: 30 months minimum
Cava de Paraje Calificado: 36 months minimum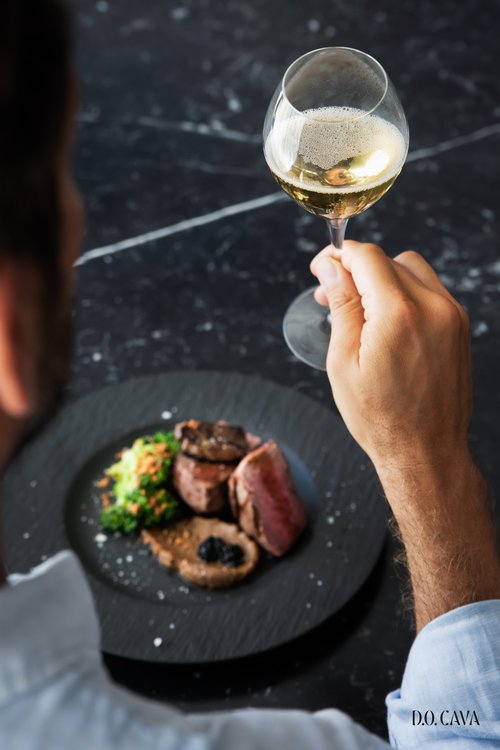 In addition to age, there are a few more specific rules for these qualifications. Cava Gran Reserva and Cava de Paraje Calificado wines must only be made Brut or drier. In addition, as "Paraje" refers to a single vineyard, grapes must be sourced from such, from vines that are a minimum of ten years old, and then only vinified on the estate. This last category was indoctrinated in 2017.
As you can probably tell, the rules governing the production of Cava were heavily influenced by quality French wine makers. As a guiding principle then, one should store and handle bottles of Cava as you would bottles of most Champagnes. Generally speaking, this translates to keeping your Cava in a cool place like a cellar or cave, as the name denotes. The goals for storage are 10-15 degrees Celsius or 50-60 degrees Fahrenheit, minimal light, minimal movement or vibration and just a touch of humidity. The cork needs to stay wet so it does not dry out, contract and release its carbonation. This is why it is best to store your bottles on their side. One should never store Cava in a refrigerator door for too long as this will incur too much movement and also lead to the drying out of the cork. Depending on the style of Cava, you may not want to keep your Cava storing for longer than necessary. Consider that all Cava is released when they are deemed ready for consumption so try not to let your bottles grow too old in a forgotten section of your cellar. There will be disgorgement dates listed on the Gran Reserva and Cava de Paraje Calificado bottles to help you keep track of your bottle age. In determining just how long a bottle of high quality Cava can keep, I find the best method is to purchase a large quantity, generally a case or more. Then taste one bottle incrementally, perhaps six months at a time. Depending on your tasting experience, adjust your schedule.
When preparing a bottle for service, the most ideal process to chill your wine is in a steel bucket one-third full of water and two-thirds ice for about 15 to 20 minutes. Secondary fermentation in a bottle will always result in a potentially dangerous amount of pressurized liquid so the following precautions should be adhered to.
Remove foil first before removing the wire cage.
Be sure the cork does not face any people or towards a fragile environment.
When slowly untwisting the wire cage, be sure you have your other hand on top to prevent the cork from possibly pushing out too quickly. You can also use a waiter's napkin.
After removing the cage, slowly hold the cork and twist the bottle with as much control as you can muster so the cork only gently hisses upon release.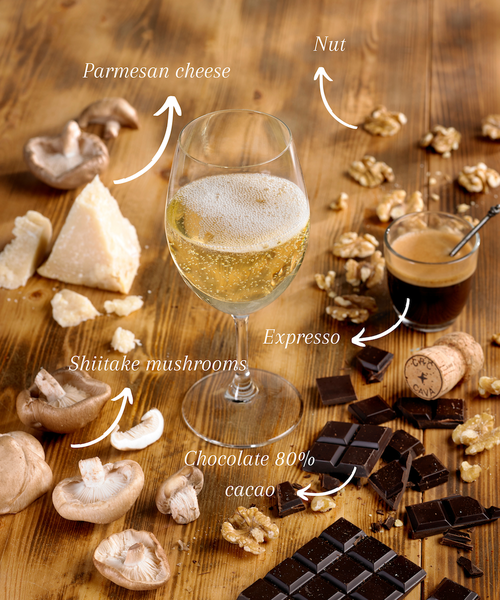 Cava is going through a renaissance. Sommeliers over the world are finding superb food pairing experiences by venturing beyond traditional standards. This includes pairing sparkling wines with every course, rather than just at the start of a meal. Wine pairings based on the intricacy of Cava's structure and complexity can range anywhere from preserved olives to fresh fruit to grilled spiced lamb to creamy desserts. Sommeliers are also learning that a wine is more than just its perceived category and are adjusting their menus accordingly. A classic menu will list Cava under Sparkling Wines but a more advanced and intuitive Sommelier will structure their menus to include wine pairing options and also take into consideration the dosage levels. Some listings also include disgorgement and bottling dates for consumers to take into account when ordering. When deciding how to arrange your listings, consider also the new François Chartier study on the molecular analyses of each style of Cava.
His particular in-depth exploration of the tasting affinity evolution ranging from younger Cavas to longer aged bottles provides any novice or expert an opportunity to better understand the nature of secondary and tertiary tasting notes and therefore affable food pairings. The younger Cava for example, is often more suited to cocktails and apéritivos while older Cavas have the capability to accent and accompany heartier fare. As the world expands globally with a palate ranging from cuisines that are fresh, curated and crisp to fermented, earthy and next level savory, we are all learning to adapt and grow outside of traditional wine rules. Cava is finding a much larger place in this growing world for all the right reasons.
It may have taken some time for the world to have caught on to these newer affinities but the combination of the best of traditional methods and modern sensibilities have found their shining path in the offerings of Cava and today's gastronomy. Finding one's identity so affable and enlightening tends to make for the best of storytelling at the start of a meal and all throughout.