With the return to the "new normal" and the opening of borders, D.O. Cava has received with great enthusiasm the much-anticipated visit of five influential prescriptors specialised in wine communication in the US market.
From 22 to 26 May, the American experts toured the Cava region, familiarising themselves with the terroir, the different types and styles of Cavas, and their versatility for pairing with any dish - even with the most complex ingredients, such as artichokes.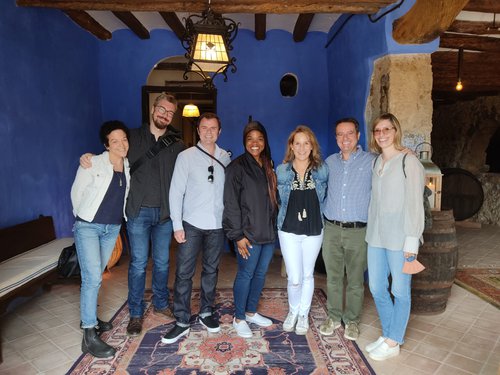 A hundred Cavas tasted, 11 wineries visited, a master tasting with the Master of Wine Álvaro Ribalta, and a personalised training session led by Patrícia Correia, the D.O.'s director of communications, were all part of this reverse mission that promises to explain the latest potential for a promising future for Cava in one of its main markets.
The programme of activities for this visit is included under the umbrella of the OCM USA 2022 programme, taking into account the variety of wineries that belong to the Designation of Origin and providing a gentle immersion into the subject of Cava, with special mention for the warm welcome received by the prescriptors at each of the wineries.
The participating wineries were undoubtedly the ones that made the difference in this reverse mission. Alta Alella, Carol Vallès, Caves Bolet, Giró Ribot, Heretat Mastinell, Juvé & Camps, Oriol Rossell, Parés Baltà, Raventós Codorníu, Sumarroca and Vins Família Ferrer, opened the doors of their bodegas and explained every detail in the production of their Cavas with great passion.
The visit provided an in-depth look into the heart of Cava, opening up to international markets thanks to the witty words of each future ambassador:
Chasity Cooper, a Chicago resident who writes for Food & Wine Magazine, Wine Enthusiast, Vinepair and Chicago Tribune; Christopher Tanghe is a Master Sommelier, director of Seattle's Crush restaurant and Chief Instructor at GuildSomm; Caitlin Miller, writer for New York's SevenFifty Daily; Dylan Garrett, editor at Wine Enthusiast and Jessica Dupuy, writer on Wine & Spirits for Texas Monthly and Forbes.