As a winemaking tradition grows, so it becomes inextricably linked with the culinary culture of that land. Such a connection is logical and natural, since nature, in her infinite wisdom, produces the ingredients that are then transformed into the local daily cuisine and served at the table.
Mediterranean gastronomy has developed in parallel with a 1,000-year-old tradition of winemaking. Not for nothing are vines, wheat and olives the pillars of the Mediterranean diet, and the Penedés area, in the region of Catalonia in north-eastern Spain, is centrally located on the shores of this sea that connects cultures. Generation after generation of our ancestors have created a store of innate wisdom that sets the guidelines of how we eat and what we drink.
The lands of the D.O. Cava enjoy an unrivalled location: a balcony overlooking the Mediterranean Sea, in Penedés, set between the Roman settlements of Barcelona and Tarragona. Centuries of history in a unique location have highlighted the versatility of Cava, which not only accompanies family and group celebrations, but can be enjoyed in all seasons and with every type of Mediterranean cuisine.
Here are my top five dishes from the Penedés region that you can pair with Cava. You might never have considered matching some of these with Cava, but remember: Cava matches well with every kind of food.
Cava and the cuisine of the Penedés
Poultry, one of my favourite foods, goes very well with a glass of Cava. In Vilafranca, the Catalan wine capital, they have even a fair dedicated to the rooster. The gallo negro del Penedés is a Protected Geographical Indication that designates a breed of bird raised with traditional methods. The recipes for stuffed Penedés black chicken, cannelloni or Catalan-style chicken are accompanied by the bubbles of a Gran Reserva or Brut Nature Cava; this pairing feels deliciously luxurious.
When a dish has many dominant flavours, the pairing can be complicated. In the Penedés region we have xató, a famous "salad" that presents a challenge to the professional sommelier: fresh endives, anchovies, tuna belly, olives and salt cod. We serve it with one of the most complex sauces in Mediterranean gastronomy: romesco: toasted almonds, breadcrumbs with vinegar, garlic, salt, and cuerno de cabra (goat's horn) peppers. Our sea and our land meet in a dish whose provenance is hotly contested. Before the debate kicks off about which town this speciality originated in - Vilanova i la Geltrú, Sitges, el Vendrell or Vilafranca - serve a glass of Cava Reserva and enjoy a peerless pairing.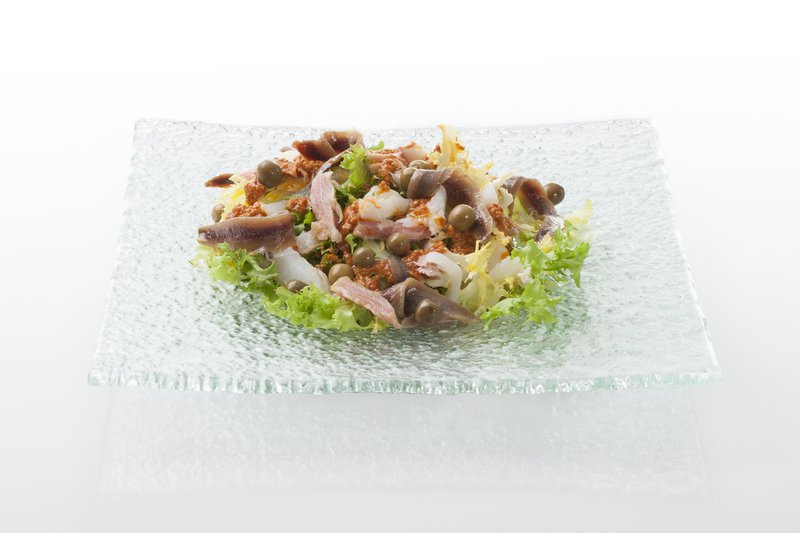 Once the grapes have been harvested and the wineries are working tirelessly to produce wines and Cavas, mushrooms start to appear on the shelves. In the woods of the Penedés and in nearby areas, you can discover milk caps, ceps, rovellones (saffron milk caps) and chanterelles. I love them cooked with garlic or in meat stews; these treasures collected by expert mushroom hunters deserve an aged pink Cava. You need to walk for miles, and get to know every inch of the beech and cork-oak forests, to discover these delights of autumn Mediterranean gastronomy hiding under some bushes. A bit like the wise hands and eyes of the winemakers who select the optimum moment to harvest the grapes, so that every year we have the golden bubbles (and pink-gold too!) of Cava.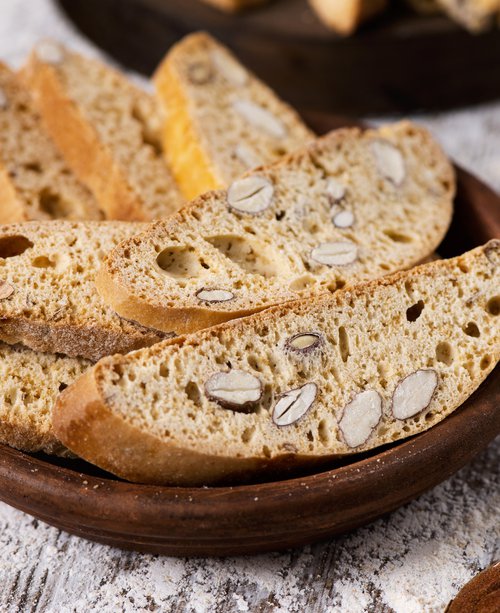 The sweets of Penedés
Cava is always a perfect match for desserts at a traditional meal, paired with a tart or a coca pastry, a cake or some truffles. This quality sparkling wine with Designation of Origin shines brightly next to some carquinyolis, a toasted sweet biscuit made with almonds which has several similar versions in Mediterranean gastronomy, such as Italian cantucci. However, the Catalan version of carquinyolis are even crunchier and do not fall apart when dipped in Cava. They say that the best ones are from Sant Quintí de Mediona. As the popular refrain goes: "always imitated, never duplicated". I usually give carquinyolis and Cava to my friends from other cultures and countries... they give a great impression!
Catànias are another of the sweet jewels of our land. When you try them for the first time, you will fall in love. These almond and chocolate sweets fool you on first sight, seducing you with their chocolate-covered appearance. When you bite into them, you discover the toasted and caramelised almond at the heart of this little indulgence. The characteristic Penedés catània contains almond, hazelnut and milk – their rich, buttery texture invites you to drink a Cava with good acidity that refreshes your palate. When I start this simple but delicious pairing, I can't stop!
Mediterranean gastronomy: from grandmother's cooking to Michelin stars
There are some clichés that prove to be completely true. Cava goes perfectly with tapas because it accompanies both salty and sour or bitter flavours. The bubbles of D.O. Cava can be served with both meat dishes and stews, and also with grilled fish or rice with seafood dishes. If your dinner features prawns, clams and other seafood, Cava will work its aphrodisiac magic to ensure the evening has a seductive ending. You can also serve this Spanish quality sparkling wine with a selection of Iberian or cured cheeses and a tray of pan con tomate (toast topped with garlic and crushed tomato).
In the most select restaurants in Penedés, they start the tasting menu with a glass of Cava and finish the desserts with another. And why not with more courses of the meal? Noone will stop you if you decide that bubbles will accompany every stage of your gastronomic experience. Just ask Oriol Llavina at the Cigró d'Or restaurant.
You don't have to drive far from any of the D.O. Cava areas to admire a field of wheat that turns golden-yellow in spring or an olive grove that extends towards the horizon. Centuries of living together have resulted in Cava and Mediterranean gastronomy pairing perfectly with each other. There is no other wine with the versatility of Cava: from aperitif to dessert, from gourmet products to traditional cuisine.
Follow my example and bring a glass of Cava into your life - it will bring you joie de vivre too!