The Basque Culinary Center held its annual conference on Catalan Gastronomy. At this event, attended by renowned chefs, producers and the Cava D.O., more than 100 students learned more about to the culinary and wine tradition of the area.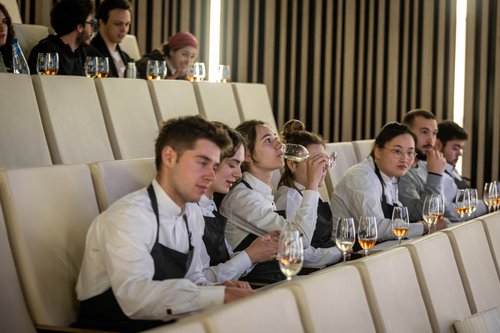 The journalist and sommelier, Sílvia Culell, was in charge of giving this eagerly awaited session on the Cava Designation of Origin, under the title "Playing with the versatility of Cava". It was accompanied by a pairing to demonstrate the affinity and versatility of Cava in an accessible way and with classic ingredients.
During the presentation, the new segmentation and zoning regulations, the commitment to sustainability, and the exhaustive research resulting from François Chartier's molecular study of aromatic harmonies, were discussed.
To put theory into practice, the four types of Cava with complementary ingredients were tasted. Starting with Cava de Guarda with salted almonds; Cava rosé with smoked salmon; Cava de Guarda Superior Reserva with soft cheese, and finally Cava de Guarda Superior Gran Reserva with cured cheese.
Throughout the morning, the students of the master's degree in sommelier and the haute cuisine degree enjoyed the presentation and pairing of the D.O. Cava, as well as different Masterclasses and talks given by personalities such as chefs Artur Martinez (Aürt) and Martina Puigverd (Restaurant Les Cols de Olot), and Jordi Vilarassa, a local producer of cold meats.