As a representative and jury member of the Champagne and Sparkling Wine World Championship (CSWWC), the renowned Finnish sparkling wine expert and Master of Wine, Essi Avellan, visited the heart of Cava this spring in order to learn first-hand about the latest developments at the heart of the Regulatory Council, in addition to discovering the wine's origin, and new references of Cavas de Guarda Superior.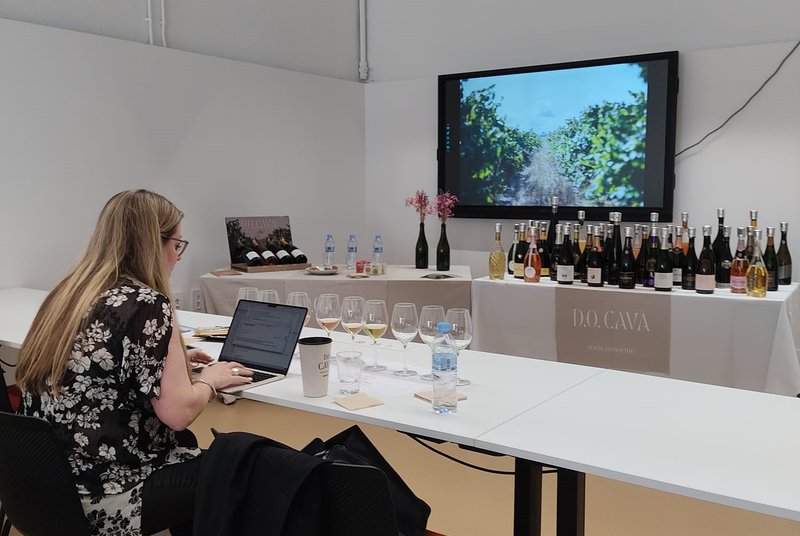 Avellan's visit to the Cava D.O. underlines the importance and recognition that the Champagne and Sparkling Wine Championship gives to this wine region. Her immersion in Cava began at the Cava Regulatory Council, in an informative session where the recently added segmentation and zoning regulations were explained in detail, as well as the sector's vocation towards sustainability, with the category of Guarda Superior set to be 100% organic by 2025, in addition to the focus on long ageing.
On her visit, Avellan had rewarding discussions with experts, including a meeting with the president of the D.O. Cava, Javier Pagés. During her tour, the Finnish wine expert had the opportunity to taste a selection of more than 60 Cavas from different categories, including special vintages and magnum formats. She also visited two wineries of Cava de Guarda Superior de Paraje Calificado with Integral Winemaker certification.
The extensive tasting of Cavas demonstrated a variety of styles and expressions that reflect the diversity and excellence of this sparkling wine, allowing Avellan to appreciate the dedication and effort that goes into the production of high-end Cavas. Her visit provided a unique opportunity for Cava producers to showcase their work and share their innovations with an expert in the field.
Finland's first Master of Wine, Essi Avellan is renowned for her expertise and knowledge of champagne. She has written several books on sparkling wine, as well as judging numerous renowned competitions such as the International Wine and Spirit Competition (IWSC) and the CSWWC, among others.