On 19 May, the Cava Designation of Origin was present at the Discovery Days of the prestigious Le Cordon Bleu culinary school in London, a teaching institution dedicated to providing the highest level of education in cuisine and hospitality.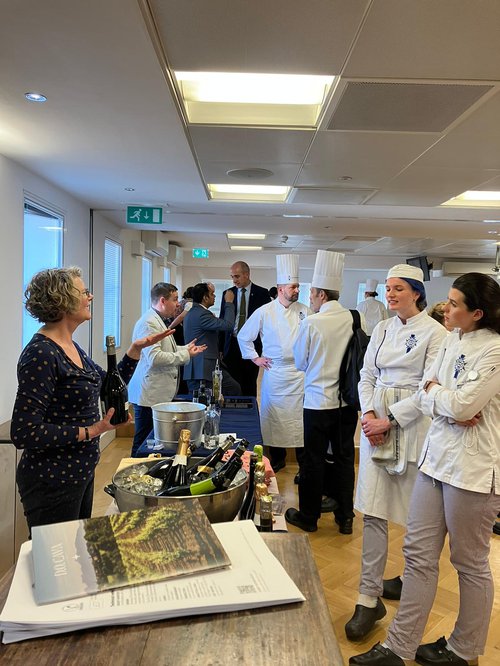 This exciting tasting and hands-on learning event was attended by 120 students of the Diploma in Wine, Gastronomy and Management, as well as chefs, sommeliers and catering professionals from the same school.
During the day, the attendees had the opportunity to discover and appreciate the quality and diversity of the Cavas de Guarda Superior of the D.O. Cava. A total of six wines were presented, representing an example of the various categories and styles within the Denomination of Origin: Cava Guilera, Maria Rigol Ordi, Pago de Tharsys, Parés Baltà, Segura Viudas and Vilarnau.
The prestigious speaker Heather Dougherty, renowned wine expert, Advanced Level Cava Trainer and acclaimed writer, guided the participants through a unique informal sensory experience. She shared her knowledge about the Cavas de Guarda Superior, highlighting their distinctive characteristics, indigenous grape varieties influenced by the Mediterranean climate, and the meticulous elaboration following the traditional method that makes Cava unique in the international wine scene.
The event took place in an elegant tasting room specially prepared for the occasion, where an atmosphere conducive to learning and knowledge-sharing was created. Students had the opportunity to interact with Heather Dougherty, ask questions, and deepen their understanding of Cavas de Guarda Superior and their gastronomic versatility.