The emblematic building of the University of Gastronomic Sciences in Pollenzo, Italy, part of the UNESCO World Heritage-recognised Residences of the Royal House of Savoy, hosted a complete Masterclass on Cava as part of the syllabus of the Master in Wine & Spirits.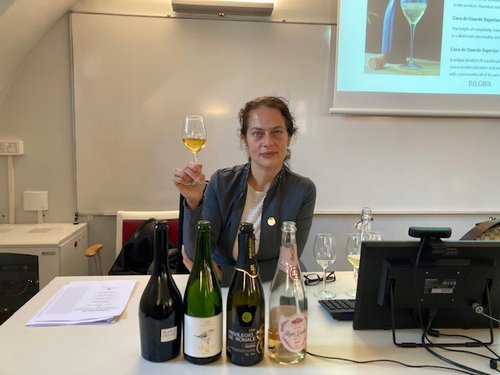 Advanced Cava Trainer, Nicoletta Dicova, professor at the University of Gastronomic Sciences and Master of Wine student, introduced Cava to the diverse group of students from different countries.
The Masterclass was part of a series of lectures on sparkling wines from around the world, and highlighted the uniqueness of Cava and its high quality, with emphasis on the traditional method of elaboration, the long ageing, and the robust segmentation and zoning rules.
"There was a lot of interest and appreciation from the students, most of whom were unaware of the considerable diversity and quality that Cava can offer"
Nicoletta Dicova
Another of the themes emphasised in the session was the path towards a sustainable future, as Cavas de Guarda Superior will be 100% organic by 2025. The students were very interested in this decision, which they were able to evaluate first-hand in the Cavas tasted during the session: "The four Cavas that we tasted in the Masterclass were very well received, and the organic and biodynamic Cavas inspired great fascination among the students," says Nicoletta.
For this occasion, four Cavas of different categories and grape varieties were tasted: Alta Alella's Bruant; Bodegas Romale's Privilegio de Romale; Parés Baltà's Blanca Cusiné; and Roger Goulart's Coral Rosé.