What grape varieties are used to make Cava?
Among the many singularities that Cava possesses, one of the most outstanding is its production process, which, among other things, lends it much of its personality. This process is the so-called "traditional method", which is basically characterised by carrying out the second fermentation in the same bottle that will reach the consumer.
But Cava's identity is also conferred by factors such as the soil, the climate and the varieties grown. These elements are all integral to this quality Spanish sparkling wine – or, at least, that was the view held by the pioneers who, more than a century and a half ago, began to produce sparkling wines following the traditional method or "champenoise". It should come as no surprise that the grape varieties chosen back then were those that had already been established for centuries in the Penedès (known as the land of Cava): Macabeo, Xarel-lo and Parellada. This is what makes Cava different from other wines, and gives this wine its authenticity, uniqueness and connection to its region of origin.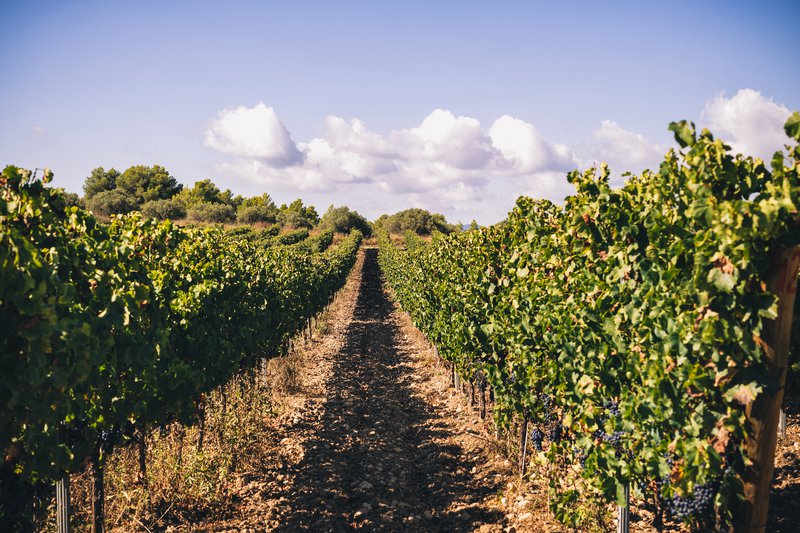 Which grapes are authorised for making Cava?
Macabeo (known in other wine-growing areas as Viura), Xarel-lo, Parellada, Chardonnay, Subirat Parent (Malvasía from La Rioja), red Garnacha, Trepat, Monastrell and Pinot Noir.
White grapes and red grapes
White: Macabeo, Xarel-lo, Parellada, Chardonnay, Subirat Parent.
Red: Red Garnacha, Trepat, Monastrell and Pinot Noir.
9 Types of grapes for Cava

Macabeo
Origin and area
Macabeo probably originates from the Penedès region in Catalonia, where it was first mentioned in the early 17th century by Fray Miquel Agustí (1617). A widely cultivated grape, known as the basis of Cava, it can be found in the Central Penedès and Lower Penedès (near the Garraf coast); and in the Tarragona, Conca de Barberà and Rioja Designations of Origin.
Characteristics of Macabeo
This grape variety has long, compact bunches of medium-sized berries with thick skin; it is very strong and vigorous, with large, tightly packed bunches. Macabeo buds and ripens late, and is usually harvested early. It is a very balanced variety in body and aroma, with a fresh, fruity and elegant flavour, and can produce whites with strong aging potential. .
What type of Cava is produced with Macabeo grapes?
This variety produces white Cavas, generally used as part of the classic coupage composed of Macabeo, Xarel-lo and Parellada. Macabeo brings liveliness, freshness and fruitiness to Cava. Its wines have balanced acidity and delicate aromas.
Xarel·lo
Origin and area
The most likely place of origin of this variety is the Penedès area, where it is first mentioned by that name in 1785. It is an autochthonous Catalan variety, whose DNA profile suggests that it could be related to Macabeo, with which it is often mixed, and sometimes confused. Almost 99% of the Xarel-lo plantations in Spain are located in Catalonia, where it has been authorised in most wine regions. In each region it can adopt a different name.
Characteristics of Xarel·lo
This grape has compact bunches of medium-sized, thick-skinned berries. With medium budding and maturity, it adapts to most soils. Xarel-lo is very rich in sugars and therefore has a high alcohol content.
What does the Xarel·lo grape contribute to Cava?
This variety is valued by Cava producers because it adds body, structure and freshness, and increases the longevity of the wines. For long-aged Cavas, the percentage of Xarel-lo guarantees the balance of the coupage.
Parellada
Origin and area
Although its origin is in Aragon, Parellada is considered a native variety of the Alto Penedès area and also of the Designations of Origin of Conca de Barberà, Costers de Segre and the northwestern part of the D.O. Tarragona.
Characteristics of Parellada
This variety produces large bunches of medium-sized berries, with early budding, very late ripening and high production per hectare. Exceptionally productive and extremely suitable for the high areas of the Penedès, Parellada also provides moderate acidity and aging potential. Although its cultivation adapts to all types of soil, the best qualities are usually found at higher altitudes.
What does the Parellada grape contribute to Cava?
This variety is aromatic with high quality potential, and is used mainly in the production of Cava. Parellada produces well-structured, fruity and elegant wines, bringing finesse, smoothness and life to Cavas.
Chardonnay
Origin and area
This "international" variety has been authorised to produce Cava since 1986. The first reliable mention appears in 1685, in the historical growing area in central France, in what is now Burgundy. The adaptability and versatility of the Chardonnay grape make it one of the most popular varieties in the world, as it adapts easily to all types of soils and climates.
Characteristics of Chardonnay
The Chardonnay cluster is small in size, usually not exceeding 15 cm, with a round and compact berry. It is early budding, very productive and easy to grow. Its acid component and aromas provide freshness, finesse and elegance as well as good aging potential.
What kind of Cava is produced with Chardonnay?
This grape produces balanced wines with body and aromas, great persistence in the mouth, and with delicate fragrances. Chardonnay is a variety with great aromatic power and high alcohol content. For the production of Cava, the harvest of this grape must be brought forward, due to its richness in sugars and therefore its potential alcoholic content.
Subirat Parent
Origin and area
Subirat Parent (Alarije/Malvasía riojana) is an exceptionally old grape variety originating from Extremadura in southwestern Spain, where it is first mentioned in 1448 as the main white variety of the area. Although Alarije has several synonyms based on the name Malvasía, it is genetically very different from the true Malvasías grown in other regions. The official Spanish statistics tell us that this variety is mainly grown in Catalonia (90 ha), Rioja (70 ha) and Castilla-La Mancha (30 ha), with little cultivation in its own area of origin.
Characteristics of Subirat Parent
This grape has compact bunches of medium-sized, thick-skinned berries, with medium-late budding and late ripening. It is highly productive, but also susceptible to fungi and diseases.
What does the Subirat Parent grape contribute to Cava?
This variety produces wines with structure, fresh, and with a good aromatic composition (white flowers, roses, apple, melon and herbaceous tones) that increase in complexity with aging, although they have a propensity to oxidise, turning golden as they age. Subirat Parent has an optimum potential alcohol content for Cava, 10.5% to 11.5%, and moderate acidity.
Red Garnacha
Origin and area
There is a fierce debate, above all in Italy, as to whether the origin of this variety is in the old dominions of the Crown of Aragon (especially in Aragon and Catalonia), where all its mutations are well represented, or on the island of Sardinia. According to researchers, it is impossible to be certain from the historical data. However, from a genetic point of view, Spain seems to be the birthplace of Garnacha for two main reasons:
- All three colour variants (red, grey and white), as well as other morphological mutations (Hairy Garnacha), have been observed in Spain but not in Sardinia.
- Recent morphological and genetic studies have provided evidence of significant clonal diversity among the reference varieties of Garnacha in Spain, but not among those of Cannonau in Sardinia.
- Significant presence in the Denomination of Origin of Tarragona, in the lower part of Penedès, in the Cariñena area, and also in Rioja.
Characteristics of red Garnacha
This variety has relatively early budding, late ripening, and great longevity. It produces medium-sized, delicately compact bunches with round, thin-skinned berries. Garnacha has a high alcoholic potential, which is why it must be harvested early to produce rosé Cava. This grape provides vivid and intense colours, with notes of jam and red fruits, while also being rich in flavours of red berries.
What does red Garnacha grape contribute to Cava?
As with the white varieties, red Garnacha can be used to produce all types of Cava, whether white or rosé, although only a small quantity of this variety is used for the production of rosé Cava. It should be noted that, for rosé Cava, the base wines must be made with at least 25% of grapes from red varieties.
Trepat
Origin and area
The origin of this variety is the Conca de Barberà region, and it is grown mainly in the designation of the same name, and also in Costers de Segre and Penedès. In 2008, Trepat plantations in Spain reached 953 hectares, practically all of them in Catalonia.
Characteristics of Trepat
This grape has sizeable, compact bunches of large berries and relatively thick skin; it is robust and productive, with early budding and late ripening. Trepat is characterised by its red fruit aromas, such as strawberry, raspberry and cherry.
What type of Cava is produced with Trepat grapes?
This variety is ideal for making rosé Cavas with intense colour, moderate alcohol content and balanced acidity. Cava made with Trepat produces elegant, subtle and distinguished Cavas.
Pinot Noir
Origin and area
The first documented mention appears in 1283 under the name of Moreillon, while the first mention of Pinot is in 1375, both in the most north-eastern areas of what is now France. Pinot Noir was authorised in 1998 for the production of rosé Cava, and since 2007 it can also be used to produce white Cava, the so-called "Blanc de noir". A very widespread variety globally that adapts better to cold and high areas, in Spain it must be harvested early, as the Mediterranean climate makes it ripen extremely quickly
Characteristics of Pinot Noir
This grape has diminutive but compact clusters, with small, round, thick-skinned berries of an intense violet colour. Pinot Noir does not like high temperatures, and for this reason it is best to harvest early and, if possible, at night.
What type of Cava is produced with Pinot Noir grapes?
This variety produces extremely fruity, aromatic and low tannin wines. Pinot Noir enhances the crown of foam and the bubbles in the glass, as well as providing persistence in the mouth, and giving colour and fine aromas to the wine. It can be vinified as a white wine if the pressing process is gentle and the skin is separated from the must quickly. To vinify this grape for rosé Cava, the skin and must must be macerated for a few hours, in order to extract the necessary colouring matter to lend this Cava its pink colour.
Monastrell
Origin and area
The name Monastrell is mentioned by Francesc Eiximenis in the Empordà, Catalonia, as early as 1381. However, it seems that Monastrell originates from Sagunto in the Camp de Morvedre region of Valencia, where it was the main variety before the arrival of phylloxera in the early 20th century. Until 1868, Morvedre (Spanish Murviedro) was the Catalan name for the city of Sagunto, an important wine port to the north of Valencia from the 15th century onwards.
Outside Spain, Monastrell is often known as Mataró (or Mataro), a name also derived from a town on the Mediterranean coast, very close to Barcelona. In France, Monastrell was probably introduced in the 16th century from Morvedre (now Sagunto) to Provence, hence the name Mourvèdre, and from Mataró in Roussillon, where it kept the name Mataró, which is the name also used in Australia and California today.
This is a typical Mediterranean variety with a presence in the Penedès region and in many of the Spanish Denominations of Origin, although it is most widely planted in the Levante region. Monastrell is the fourth most-planted red variety in Spain, which is also the country with the largest surface area dedicated to this variety.
Characteristics of Monastrell
Medium-sized, not very compact clusters, with large berries and thick skin that produce wines of intense colour, with a fine alcohol-acidity balance and good aging potential.
This variety is late budding and late ripening; a demanding and difficult variety, Monastrell needs high temperatures, especially at the end of the ripening period, and a sufficient supply of magnesium and potassium in order to ripen. It is extremely susceptible to drought and therefore very suitable for calcareous soils that provide a limited but regular water supply.
What kind of Cava is produced with Monastrell grapes?
This variety is basically intended for the production of rosé Cavas, although Monastrell is also used in the composition of certain base wines, both white and rosé, to which it provides alcohol content and moderate acidity.
Which is the most widely planted grape for Cava?
Macabeo is still by far the most widely planted grape variety in D.O. Cava, with a total of 13,955 ha, representing more than a third of all varieties (36.58%). Xarel-lo with 9,825 ha, and Parellada with 7,385 ha, are the next two most represented varieties, with 25% and 19% respectively. The rest of the varieties together represent 19% of the total.
Limitation of grapes per hectare in the Cava region
The D.O. Cava has established a planting density between 1,500 and 3,500 vines/ha, with a traditional gobelet or trellis training system. A maximum yield of 12,000 kilograms of grapes per hectare (80 hectolitres/ha) is required for the production of Cava. For Cava de Guarda Superior (Reserva and Gran Reserva), the requirement is 10,000 kg/ha (66.66 hectolitres/ha); and for Cava de Paraje Calificado, 8,000 kg/ha (48 hectolitres/ha).

Difference between Cava grapes and Champagne
The big difference between the grape varieties found in the D.O. Cava and Champagne, is the climate and the terroir to which they must adapt. The French environment is continental, with harsh and cold winters, almost at the limit of the ideal area for the cultivation of the vine. On the other hand, the grape varieties used for Cava have had to adapt to a completely different climate: Mediterranean, with moderate rainfall, hot, dry summers, and mild winters.
Fortunately for Champagne lovers, the area is rich in calcareous soils, with good water retention. The French law of 22 July 1927 determines the authorised grape varieties, which are currently Pinot Noir, Pinot Meunier and Chardonnay, as the predominant ones. Other varieties - Arbanne, Petit Meslier, Pinot Blanc and Pinot Gris (all white) - are also authorised, although they represent less than 0,3 % of the vineyard.