Cava pairs very well with cheeses… but especially sheep milk cheeses. Find a full list of the best cheeses to pair with sparkling wine like Cava de Guarda and Cava de Guarda Superior: Reserva, Gran Reserva and Paraje Calificado.
Cava cheese pairing - The best cheese for Sparkling wine
Why Cava is great for food pairing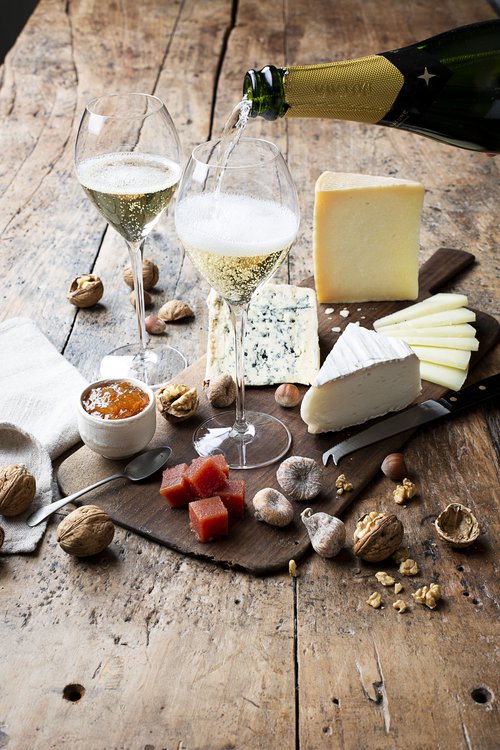 Sparkling wine is typically linked with celebrations and aperitifs. Sparkling wine comes at Weddings, Birthdays, Hen/Stag Nights and as an aperitif before starting a meal. These are all wonderful ways to enjoy a glass of fizz, however there is a whole world of exploration to be had when you start to match it with food. So many times, I have had a glass of sparkling wine before my meal has even started – it is light, palate opening, refreshing and complex enough to be interesting but not overpowering early in a dinner. These traits in fact are all PERFECT for food matching and something I have enjoyed exploring more and more over the last couple of years. Cava is the best sparkling wines for food pairing. It has good acidity, balance in its complexity and there are several different types of Cava which are suitable for different styles of food. Pairing food with Cava is wonderful and Cava and Cheese pairing works incredibly well which we will go into below.
Types of Cava
Cava is typically referred to just as 'Cava' however as with many wines, there is much more to it and there are several different styles. So what are the styles and which Cava is best with food pairing? First let's look into the different categories of Cava below. There are two main categories of Cava which we will be looking at:
● Cava de Guarda
● Cava de Guarda Superior
Within Cava de Guarda Superior category:
● Cava Reserva
● Cava Gran Reserva
● Cava de Paraje Calificado
Cava de Guarda with its younger profile with a minimum of 9 months of aging has a very aromatic profile, with a lot of citrus, white fruits & flowers and herbal notes.
Cava de Guarda Superior Reserva which is aged for more than 18 months exudes flavours of riper white fruits, yellow fruits and a more savoury level including dried nuts, coffee and pastry.
Cava de Guarda Superior Gran Reserva is aged for more than 30 months which now delves into autolytic flavours of toast, butter and into spices also. The fruit elements are more stewed and cooked and a particular boozy spice of something brandy-esque is also apparent.
Finally, the Cava de Guarda Superior de Paraje Calificado is aged for more than 36 months. This long ageing process gives it a deep aromatic complexity, with lots of ripe and baked fruits, spice and roasted tones of coffee, chocolate and toast.
The difference in ageing gives the Cavas a whole wealth of flavour profiles and characteristics which in turn makes each one better suited to different styles of food. Cava really is a food friend and so let us explore the types of cheese which work best and why.
What types of cheese are there?
Cheese can be categorised in many ways with the simplest being by style. These styles include but are not limited to:
● Fresh
● Soft
● Semi-Hard
● Hard
● Blue
To discover which is the best cheese for pairing with Cava, let's explore a little more about the typicity of these cheese styles below.
Fresh cheeses are young with very little ageing. Their flavours are simple and they typically have a citrus acidity or fresh milk nuances.
Soft cheese is a large category which can be broken down further and differentiated based on the processes involved in making and maturing them. Soft cheese can include bloomy/white rinded cheeses like Brie and Camembert, washed rind cheeses such as Taleggio and Epoisses and you can also even cross over into soft blues etc. White rinded cheeses show flavours such as mushroom, brassicas and flavours of the sea whereas washed rind cheeses generally have more of a meaty, boozy, funky flavour.
Semi-Hard cheeses are as you would expect – they are not soft yet not hard! They include cheeses such as Tomme de Savoie & St Nectaire. These can range in complexity but are generally sitting in a middle range with earthy, cavey, citrusy flavours.
Hard cheeses incorporate many styles with the most common being Cheddar, Parmigiano Reggiano, Manchego and Alpine cheeses like Comté. Harder and longer aged cheeses show more complexity, cooked flavours, nuts, sweetness and savoury/umami notes.
Finally, Blue cheeses are cheeses with blue moulds added into them in an early stage of the cheesemaking process. You can also get some which have natural blue moulds. These styles have not been inoculated with blue moulds, but the blueing simply forms owing to the conditions and environment where the cheeses are made and matured. The most famous and readily available blue cheeses include Roquefort, Gorgonzola and Stilton. In flavour, blues can be fruity, mineral, cereal and with a sliding scale of spice depending on the age, style and amount of blueing within.
Cava and Cheese: what cheese goes well with sparkling wine?
Now we know a little more about the flavour profiles we are working with, we can get onto the exciting part of match making – which Cava works the best with which cheese?
What Cava to pair with Manchego cheese
Manchego is a Spanish Sheep's milk cheese which varies in its ageing. Manchego is wonderfully complex with a sweetness from the milk, grassy and nutty tones as well as a wonderful tang at the finish. As it ages further, similarly to Cava, you discover more toasty, nutty and caramel flavours. Manchego cheese pairing is great with Cava de Guarda Superior Gran Reserva. When tasted together there is an excellent harmony which brings out flavours of coconut, almond, coffee, apricot and beyond. This made for one of the best wine matches for Manchego which I have tried.
What Cava to pair with Parmesan cheese
Parmesan Cheese or Parmigiano Reggiano if referring to the PDO protected cheese itself is a very complex cheese. It is widely used as a grating and cooking cheese however it really does sit wonderfully on a cheeseboard and it deserves to be there. Parmesan has big bold flavours, acidity, and depth. You can find brothy, meaty, savoury notes, grass and hay, fortified wines, and spirits, cooked and toasted notes and much more. But does Cava pair well with Parmesan cheese? The bolder flavours of Parmesan make it a good match with the more aged styles of Cava. It is a great match with both the Cava de Guarda Superior Gran Reserva and Cava de Guarda Superior de Paraje Calificado. The spices, liquorice, chocolate and vegetal notes found within the Cava de Guarda Superior Gran Reserva and Cava de Guarda Superior de Paraje Calificado were very complementary with the Parmesan. An excellent Parmesan Cheese pairing and an excellent idea for an amuse bouche.
What Cava to pair with Comté Cheese
Comté never ceases to amaze me with how many different flavours come through each time. You never really taste the same thing twice with Comté which makes it so special. When it comes to Comté cheese pairing, you must consider the age profile. In the younger cheeses you will find fresh cream, lactic flavours and grassy notes. In the more aged cheeses more toast, roasted meats, hay, alliums and nuts develop. The younger profiles of Comté, around the 12 month ageing mark are an excellent match with the Cava de Guarda. When tasted together, the freshness within each item remains and the granny smith apple, cognac and citrus bitters of the Cava work beautifully with the creamy, herbal notes of the Comté. This would work also with soft, creamy cheeses and even some fresh goats cheeses too. With more ageing in the cheese from around 18 months plus, the Cava de Guarda Superior Reserva matches well. I enjoyed the apple, malt and fennel notes in particular from the Cava dancing well with the cheese, making this one of the best sparkling wine matches with Comté. Maybe even one of the best wine pairings with Comté.
What Cava to pair with Brie
What is the best pairing for Brie cheese? Is Cava one of the best Sparkling Wine matches with Brie cheese? Brie is a notoriously difficult cheese to pair with so you have to be extra careful with Brie pairing ideas. The rind on the cheese can make it very complicated to match it with wines as it can make a bitter, unpleasant taste on the palate. When buying your Brie or any white rinded cheese, make sure that it is ripe or even under ripe. If it is TOO ripe, you will find bitter notes, heat and ammonia on the rind which make for an unpleasant match. A ripe or slightly under ripe Brie (I actually eat my Brie this way!) makes for a marvellous pairing with Sparkling wine. I particularly enjoyed how the creamy elements worked well with the freshness of the Cava de Guarda. The mousse from the bubbles and the granny smith apple acidity cut nicely through the creamy cheese. I very much enjoyed this Cava pairing with Brie Cheese as well as with the Cava de Guarda Superior Reserva too. The fennel and herbaceous notes coming through from Cava de Guarda Superior Reserva made for an excellent flavour combination.
What Cava to pair with Roquefort
Roquefort is a strong cheese. It is not afraid to show it. The cheese is known for its heat and full blue flavours however a good Roquefort also has a balance with malty flavours and a very pleasant sweetness. You see Roquefort paired frequently with sweet wines, but why not try Cava with blue cheese and more specifically Cava pairing with Roquefort cheese? Roquefort is made with sheep's milk, a milk which seems to be very well suited with Cavas. The bold flavours of Roquefort need big flavours to match which the Cava de Guarda Superior de Paraje Calificado provides. The combination of sweet and spice from the Roquefort combine well with the vanilla, brandy and cooked fruit flavours in the Cava. A great Roquefort wine pairing.
Conclusion
So what is the best cheese for Sparkling Wine? The answer really depends on the style and variety of both your cheese and your wine. Cava really is one of the best sparkling wines for food pairing. Its great structure and complexity but lack of tannins make it really appealing for me and hopefully many other people too as a lighter alternative with your food. When it comes to Cava & Cheese pairing, I really did find the end products most enjoyable. As a very general 'Cava Cheese Pairing' rule, look to pair younger, less complex cheeses with younger, less aged Cava and more bold and complex cheeses with the more aged Cava.
To summarise, for pairing Cava with Cheese I would recommend the following;
● Manchego Cheese with Cava de Guarda Superior Gran Reserva
● Parmesan Cheese with Cava de Guarda Superior Gran Reserva & Cava de Guarda Superior de Paraje Calificado
● Comté Cheese with Cava de Guarda and Cava de Guarda Superior Reserva
● Brie Cheese with Cava de Guarda and Cava de Guarda Superior Reserva
● Roquefort Cheese with Cava de Guarda Superior de Paraje Calificado
Keep exploring with your own Cava & Cheese Pairings and try drinking a glass of Cava with your main meal. You will be pleasantly surprised. It really is versatile and not just for an aperitif!