On 24 September, more than 50 wine lovers attended this event with Karen MacNeil, author of the best-selling The Wine Bible, along with ten wine influencers from around the United States.
This much-anticipated virtual event was extremely successful in teaching more about Cava, accompanied by top wine professionals. In a relaxed round-table format, topics discussed included the uniqueness of Cava, the largely Mediterranean climate in which its grapes grow, its traditional method of production, as well as the considerable quality and diversity of Cava types available on the market, ideal for every palate and occasion.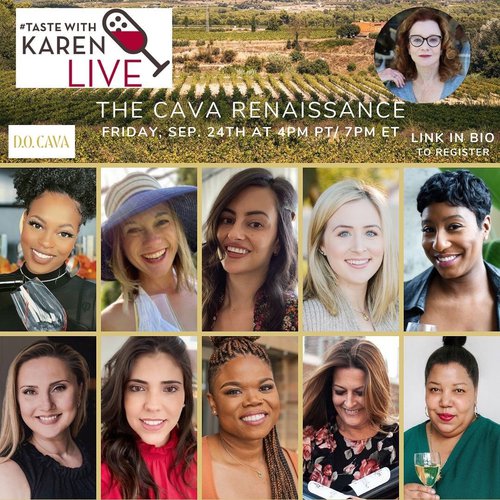 This #TasteWithKaren event was hosted by Karen MacNeil, the most renowned wine presenter in the United States, as well as the only one to win every major wine award in the English language. Karen was accompanied by Tina Lannacchino (@millennialsdrinkwine), Isis Daniel (@themillennialsomm), Mira Vojinovic (@_vinogal), Chasity Cooper (@chastityscooper), Desiree Harrison-Brown (@winonoire), Kristy Wenz (@kristys_winetravels), Davon Hatchett (@bubbleista), Isabel Freeman (@napavalleytip), Audra Tavelli (@audratavelli) and Marika Vida (@themomsomm).