CavaTast, one of the most eagerly awaited Cava and gastronomy events in Catalonia, was back in full force from 1 to 3 October in Sant Sadurní d'Anoia. With limited seating capacity and a clear commitment to bringing together producers and visitors, CavaTast offered a varied range of activities that delighted its visitors.
During the weekend, the D.O. Cava had the honour of opening the on-site tastings with a special event designed for the occasion: a tasting of high-level Cavas accompanied by a selection of unique gourmet tapas that paired perfectly with the Cavas presented.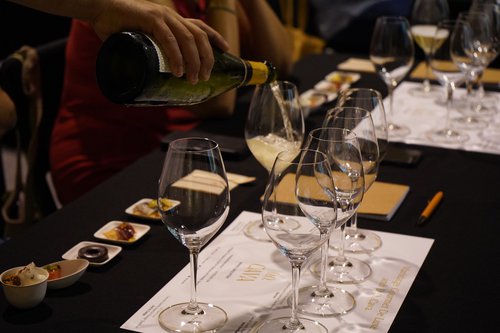 Sommelier Xavi Viles presented traditional high-quality Cava, the latest news from the Designation of Origin and the great versatility of Cava with gastronomy, through six tapas of avant-garde cuisine: cream cheese and parmesan "stones", crunchy bread "earth" with marinated sardine and grapes, crispy bread "airbaguet" with Iberian ham, creamy foie donut with hazelnuts, marinated salmon with citrus emulsion and crunchy surprise, and tatin in a glass: caramelised apple, biscuit and cinnamon cream.
From the vineyard to the table, participants enjoyed the aromatic harmony and the interplay of flavours, textures and surprising sensations in this unprecedented tasting with the following Cavas: Cava de Guarda Oliver Viticultors (Brut Nature Ecològic);Cava de Guarda Superior Reserva Maria Casanovas (Gel Brut Nature); Cava de Guarda Superior Gran Reserva Naveran (Perles Blanques); Cava de Guarda Superior de Paraje Calificado Juvé & Camps (La Capella); Cava de Guarda Superior Monovarietal Muscàndia (Anhel Blanc de Noirs); and Cava de Guarda Superior Rosado Molí Parellada (Mercat Brut Rosé).
The CavaTast, in addition to around 30 exhibitors and activities in D.O. Cava wineries, also featured parallel activities organised by the Confraria del Cava and the employers' association AECAVA. These included the presentation of the Cava Women collective (see story below), which was officially launched with a special tasting accompanied by testimonials from women in the Cava sector.
All these activities were held taking into account the security measures established for the Covid-19 pandemic.